Hormones act on the body organs, affecting an array of functions. Water balance, metabolic rate, bone strength, growth and reproduction are but a few of the many functions influenced by the hormones of the human body. Certain hormones -- such as the blood-sugar-regulating hormone insulin -- cannot be taken by mouth because they would be broken down by the digestive system. A number of others, however, are available in pill form. Healthcare professionals prescribe hormone pills to treat a variety of medical conditions and control certain hormone-related bodily functions.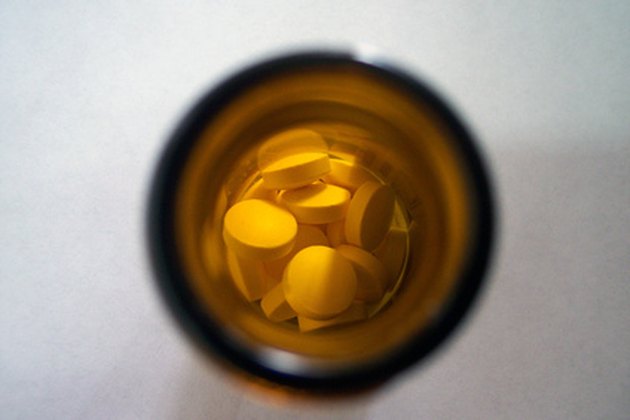 Estrogens
Estrogen is a sex hormone normally produced by the ovaries. Medical professionals prescribe estrogen pills (Enjuvia, Premarin) to treat menopausal symptoms, such as hot flashes and vaginal dryness, and to increase hormone levels in women with an estrogen deficiency. Doctors also sometimes prescribe estrogen therapy to help prevent bone loss, or osteoporosis, in postmenopausal women.
When given alone, estrogen pills increase the risk of cancer of the uterine lining, or endometrial cancer. Combination hormone replacement therapy with estrogen plus a progesterone-like hormone is not associated with an increased risk of endometrial cancer.
Progestins and Estrogen/Progestin Combinations
Progestins are synthetic hormones that function like the naturally-occurring sex hormone progesterone. Combination estrogen/progestin pills -- more commonly known as birth control pills -- are most commonly used to prevent pregnancy. The pills suppress ovulation, or the release of an egg from the ovaries. In the absence of ovulation, pregnancy cannot occur. Combined pills are also sometimes used to control pain or bleeding associated with endometriosis or fibroids.
Progestin-only birth control pills, commonly known as mini-pills, contain no estrogen but are generally are as effective as combination pills for pregnancy prevention. High-dose progestin pills (Plan B, Next Choice), or morning-after pills, are used for emergency contraception.
Corticosteroids
Corticosteroid hormone pills function in the same way as naturally-occurring cortisol and related hormones produced by the adrenal glands. Commonly prescribed corticosteroid pills include hydrocortisone (Cortef), dexamethasone, methylprednisolone (Medrol) and predisone.
Because of their potent antiinflammatory properties, doctors commonly prescribe these drugs to treat chronic inflammatory or autoimmune diseases, including several forms of arthritis, systemic lupus erythematosus, psoriasis, asthma, seborrheic dermatitis, ulcerative colitis and multiple sclerosis. Hydrocortisone is also used to replace cortisol in people with adrenal insufficiency, a condition wherein the adrenal glands fail to produce adequate levels of cortisol and other hormones.
Levothyroxine
Levothyroxine (Synthroid, Levothroid) is a thyroid hormone replacement pill used to treat people with an underactive thyroid gland, or hypothyroidism. Hypothyroidism occurs more frequently in women than in men, and most commonly arises because of an immune system attack on the thyroid gland. The risk for hypothyroidism increases with age and affects approximately 10 percent of women and 6 percent of men older than age 65, according to "The Merck Manual."