Colon cancer, also called colorectal cancer, is the fourth most common form of cancer in women and men, according to the National Cancer Institute. The symptoms of colon cancer are usually similar in women and men, but because many people don't experience any early symptoms regular screening for colon cancer is important. Women who develop colon cancer symptoms should consult a physician to ensure that they receive appropriate care and treatment.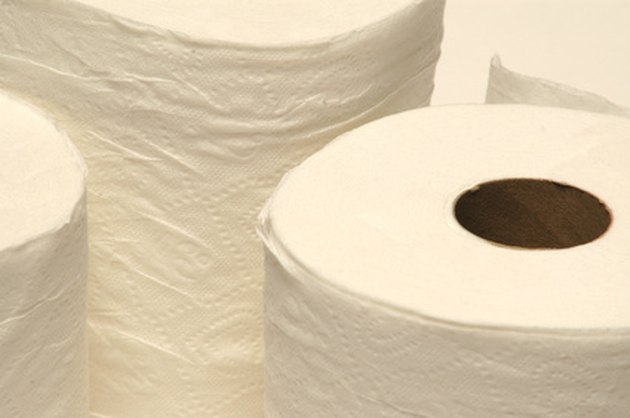 Blood in Stools
Blood in the stools is the most common symptom of colon cancer, the Milton S. Hershey Medical Center reports. After a bowel movement, women might notice blood within their stools, the toilet or on the toilet paper used to wipe the rectum. This blood may appear bright red, brown or black, and might not be present with every bowel movement. Over time, blood loss can lead to anemia and symptoms of fatigue, weakness or shortness of breath. Women who develop blood in their stools should contact a doctor. This symptom of colon cancer can also be a sign of other medical conditions, such as an ulcer.
Bowel Movement Changes
Women can experience bowel movement changes as a symptom of this form of cancer, the University of Maryland Medical Center explains. Such changes can include frequent or loose stools, called diarrhea; or infrequent, hard or absent stools, called constipation. Diarrhea and constipation can also contribute to abdominal irritation, which may cause nausea, cramping or bloating. These bowel movement changes can also contribute to unintended weight loss in certain women with colon cancer.
Change in Stools
As cancerous cells accumulate along the lining of the intestine, the colon can become narrower or even totally blocked. If this occurs, it can be harder for stools to flow normally along this region of the digestive tract. Women can notice that their stools appear smaller or unusually thin, NCI warns. In addition, sensations of pain or discomfort may arise when a woman produces a bowel movement.
Fatigue
Increased fatigue is a potential symptom associated with colon cancer in women, UMMC explains. Affected women may find that it's harder for them to stay awake, energetic or focused during normal daily tasks. They may tire more easily than unusual after physical exertion or may need to take naps throughout the day. Unusual or persistent feelings of fatigue that interfere with a woman's ability to perform her normal duties should be discussed with a doctor. This symptom of colon cancer can be a sign of many alternative medical issues, including depression, stress, infection, pregnancy or menopause.