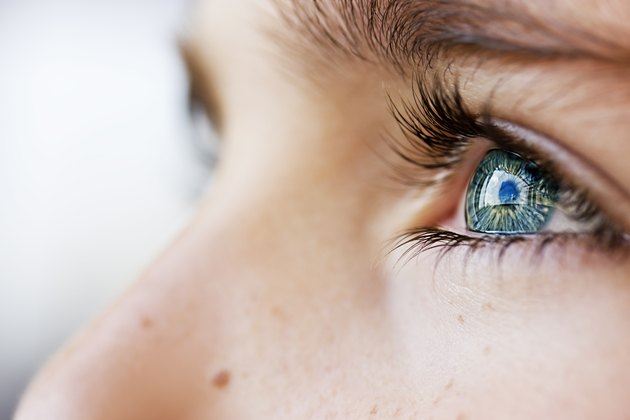 This swelling may be caused by a variety of factors, including crying, trauma, insect bites, allergy, irritation, infection, or blocked oil glands. Less commonly, puffy eyelids are related to thyroid disease or disorders that cause generalized swelling, such as liver, kidney or heart disease. Rarely, the swelling is a sign of a life-threatening infection or eye cancer.
If your eyelid is swollen due to an obvious cause, such as a mosquito bite, crying, or minor trauma, try a cool compress. For other potential causes, check below to match up your symptoms with a more effective treatment.
Natural Remedies for a Swollen Eyelid
If you have a swollen eyelid, a cool or warm compress often improves symptoms. Applying a cool compress can help if the swelling is related to irritation, recent trauma or localized allergy, while a warm or hot compress improves blood flow to the area and reduces swelling caused by an infected hair follicle or blocked oil glands.
To prepare and apply a warm or cool compress, follow these steps:
Wash hands thoroughly to avoid the spread of infection.
Fold a clean washcloth into quarters.
Fill a small bowl with warm or cool water. Be careful to avoid water that is too cold or too hot, as this can harm the skin.
Submerge the washcloth in the water, then squeeze out most of the excess.
Gently place the washcloth over the swollen eyelid, keeping your eye closed. Hold in place for 5 to 10 minutes, and repeat several times daily.
Launder the washcloth in hot water after use, to prevent the spread of infection.

Other things you can do at home:
Try not to rub your eyes, as this may make your symptoms worse.
Avoid applying lotion or other cosmetics near the swollen eyelid.
Don't wear contact lenses until the swelling goes away.
Stop using any new products that could be contributing to your symptoms, such as facial tissues, makeup, lotion, shampoo, eye drops or contact lens solution.
Try lubricant eye drops or artificial tears to counter eye dryness. These drops may also help rinse irritating substances from the eye. If you have allergies, over-the-counter allergy drops may also improve symptoms.
If these home treatments do not provide relief after a day or two, talk to your doctor. Also, if your swelling is accompanied by pain, fever, vision abnormalities or abnormal bulging of your eye, see your doctor right away.

What Causes Swollen Eyelids?
A swollen eyelid is a symptom, so it's important to identify the cause in order to effectively treat this problem. Read on to learn about situations or conditions that can lead to eyelid swelling.
When to Go to the Doctor
If home treatment is indicated, but the swelling is not getting better after 1 to 2 days, speak with your doctor. If you also have pain, pus-like drainage, or a rash, see your doctor.
Seek urgent medical attention if you experience eyelid swelling that worsens rapidly, if you have bulging of one or both eyes, or if your eye swelling is accompanied by a fever, significant pain, or vision problems.
How to Prevent Swollen Eyelids
Since most causes of swollen eyelids are due to irritants, infection or allergies, below are some steps you can take to reduce the risk of this problem:
If you suspect you have allergies, work with your doctor on a management plan, so you can understand which products or substances you need to avoid. Products that are fragrance or preservative free, or hypoallergenic, may work better if you have allergies or sensitivities to healthy and beauty products.
If you wear contact lenses, follow the recommended procedures for length of wear, and for cleaning, disinfecting and lens replacement.
Take steps to treat facial infections early, so they don't spread to the eyes.
Prevent infection by washing your hands regularly, keeping your fingers out of your eyes, and not sharing pillowcases or bedding with anyone who has an eye infection.
Avoid injury to your eye, which can lead to swelling. Wear protective eye gear when engaging in sports that risk eye injury, or if working in conditions where debris or objects could harm the eye.
Work with your doctor or dermatologist to effectively manage any skin condition, to avoid this problem spreading to the eye area.
If you have any medical conditions that cause edema, follow your doctor's recommendations so these conditions are well managed.
Reviewed by Kay Peck, MPH, RD