Sure, lots of runners have great abs. But they didn't get those abs through running alone. Running primarily strengthens your heart and lungs. Although your abs activate during a run to support your pelvis, they aren't subjected to the resistance or action necessary to build notable strength.
However, you need strong abs to improve your stamina and running efficiency, as well as to minimize your risk of injury. Rather than relying on running alone to build ab muscles, add strength exercises off the track, treadmill or trail to fully develop your core musculature.
Running's Endurance Benefits
Multiple muscles propel you along as you run. The abdominal muscles provide a stable base from which these muscles and joints — specifically your arms, legs and hips — move.
A 2009 study published in Applied Physiology, Nutrition and Metabolism showed, via electronic imaging, that the external obliques were the main abdominal muscles that engaged during a run. Other stabilizing muscles of the trunk — those located at the lower and middle back — are also quite active during a run.
The most experienced athletes in this study showed the greatest abdominal muscle activation. Non-runners showed less contribution to stability from the abdominal muscles.
For all participants, abdominal activation was still below that experienced during typical calisthenic abdominal exercises, such as crunches. The researchers concluded that running can provide benefits in promoting core endurance; however, it's probably not enough to build a super strong midsection.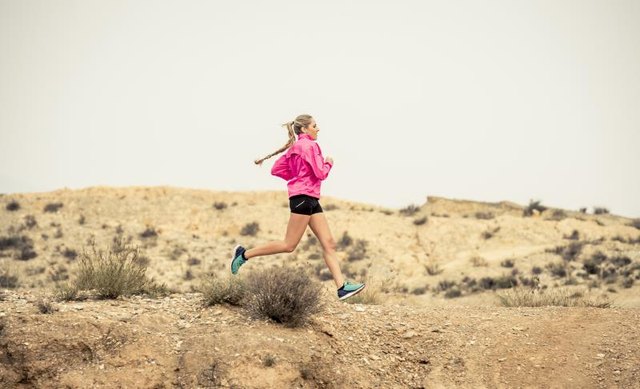 Running's Fat Burn Benefits
One of running's primary perks is that it helps you burn calories, which contributes to weight control. Runners' abs often appear defined or flat because they simply have a low level of body fat, resulting from their consistent exercise schedule.
The running didn't build their abs; it simply helped them shed fat so the abs they do have are visible. If you wish to reveal your abs — perhaps even a six-pack — you'll need a body fat level of six to nine percent if you're a man or 16 to 19 percent if you're a woman. Obtain this through dedicated running, strength training and careful dieting.
Build Ab Strength Outside of Running
Don't rely only on running alone to build strong abs. Ab work performed from a reclined position or with resistance is more effective in developing these muscles. Reclined or resistance-based moves include classic crunches, Russian twists and v-ups.
Include other moves to help strengthen your whole core, which includes your hips and back, as well as your abs. Pilates and yoga provide comprehensive core strength — individual exercises such as bird dogs, bridges and spine extensions are also valuable to runners.
Your running will benefit from regular attention to non-running core workouts. A strong core means your hips, pelvis and knees enjoy greater stability when you pound the pavement.
This leads to less muscle strain and impact on your joints, equaling a lower chance of injury. A strong core also supports activity at the joints, so you waste less energy and run more efficiently for longer.