Contact lenses must be handled with care and can only be exposed to the natural fluids in your eyes, eye drops specially designed for contact lenses, and contact solution, according to the Mayo Clinic. If you need eye drops but are unable to obtain them, you can use saline contact solution in place of eye drops in a pinch, according to the Eye Care Sourcebook.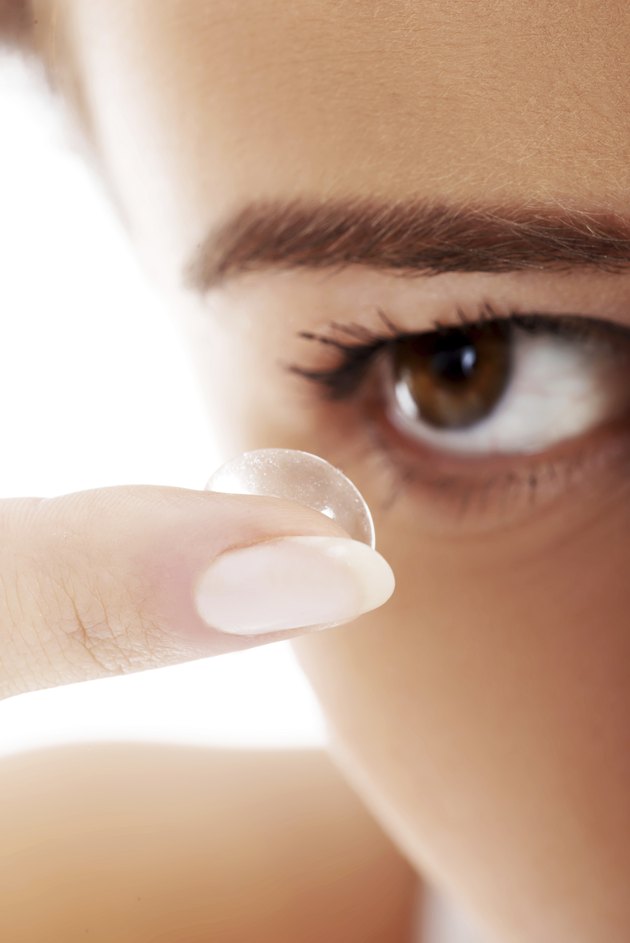 Step 1
Transfer a small amount of your contact solution to an eye dropper. According to The Eye Care Sourcebook, a contact solution bottle typically does not allow you to dispense a single drop, which is necessary when administering eye drops.
Step 2
Hold the eye dropper a few inches above your eye as you would a bottle of eye drops.
Step 3
Squeeze the eye dropper gently to dispense one to three drops, which is the typical dose of eye drops, according to Eye Care Sourcebook.
Step 4
Blink your eye several times to distribute the contact solution throughout your entire eye.
Step 5
Reevaluate your eyes after three to five minutes, which is the amount of time The Eye Care Sourcebook states it will take for your eyes to completely benefit from the contact solution. If your eyes are still dry, readminister one to two drops of contact solution.
Things You'll Need
Contact solution

Eye dropper
Warning
Make sure that you do not use contact cleansing solution, which should never be placed directly in the eyes.
Is This an Emergency?
If you are experiencing serious medical symptoms, seek emergency treatment immediately.