A traumatic injury to the lower pelvic region can cause a bruised bladder. The bladder is a small organ that stores fluid waste, called urine, before it passes out of the body through the urethra. People who develop symptoms of a bruised bladder should seek prompt care from a physician to ensure receipt of appropriate diagnosis and treatment.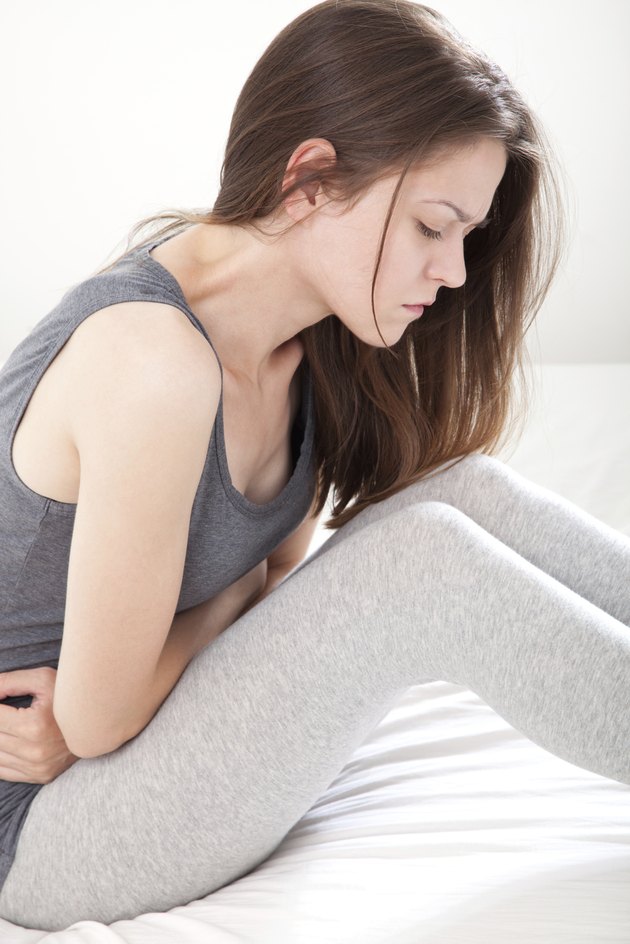 Lower Abdominal Pain
Injury to the bladder can cause lower abdominal pain symptoms in affected patients, according to The Merck Manuals Online Medical Library. Bruising occurs when the blood vessels along the wall of the bladder break open following trauma or damage. This causes blood to pool beneath the surface of the bladder wall, which can lead to significant inflammation and irritation. This inflammatory reaction may extend into surrounding organs in the lower abdominal or pelvic region, causing sensations of mild to severe pain. People who experience severe or persistent abdominal or pelvic pain should contact a doctor. These symptoms of a bruised bladder can also be signs of other medical problems, such as a urinary tract, vaginal or gastrointestinal infection.
Hematuria
Bruising of the bladder can cause the release of red blood cells into a person's urine. Consequently, this type of bladder injury can cause hematuria, or blood in the urine, MedlinePlus explains. A person who experiences hematuria may notice that her urine appears unusually pink, orange, red or dark in color due to the presence of blood. Depending upon the extent of injury, small amounts of blood may also appear on toilet paper. Blood in the urine is also a sign of a kidney infection, and affected people should contact a doctor as soon as possible.
Urination Problems
The bladder can become irritated or inflamed as a consequence of bruising. When this occurs, people may experience urination problems, such as painful urination or difficulty urinating, according to the University of Maryland Medical Center. Additionally, people may notice that their urine stream appears unusually weak or thin due to bladder bruising. Urination problems can be caused by other medical problems, such as prostate enlargement or a bladder infection. People who experience any of these urinary complications should contact a physician for further evaluation and care.
Is This an Emergency?
If you are experiencing serious medical symptoms, seek emergency treatment immediately.