The word pepita is often used interchangeably with pumpkin seed, but that isn't entirely accurate. Yes, a pepita ("nugget" or "little seeds of squash" in Spanish) is a pumpkin seed, but pepita is actually used to specifically describe the tiny green seed inside the white shell. Inside a basic Jack-o-lantern pumpkin is a pumpkin seed.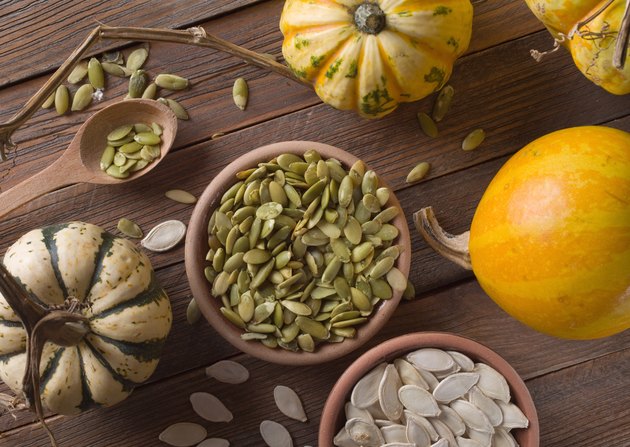 For the ambitious who want to crack that seed, they'll find a little pepita. Frankly, it's more fun to roast and eat the full pumpkin seed and a lot easier to just buy shucked pepitas. For homegrown pepitas, plant pumpkins that naturally produce hulless seeds:
Kakai
Gleisdorfer Naked Seeded
Lady Godiva
Austria Oil Seed
Naked Bear
Beppo

Nutritional Value of Pepitas
As with any other edible seed, pepitas are a wholesome food and highly nutritious. Just a one-ounce, or 30-gram, serving packs a strong punch for both nutrition and overall wellness. A one-ounce serving of pepitas has 170 calories and the macros breakdown as 15 grams fat, 9 grams protein, and 4 grams carb.
According to The World's Healthiest Foods, the pumpkin seed is a very good source of vital minerals, and one of the very best food sources for manganese, phosphorous, copper, and magnesium.
Manganese
74% daily value

Forms bones, connective tissue, blood clotting, sex hormone, metabolism, calcium absorption, blood sugar regulation

Phosphorous
57% daily value

Partners with calcium to protect teeth and bones, supports effective kidney function, produce energy for cells
Copper
48% daily value

Maintains healthy immune system, initiate healing, repair damaged tissue

Magnesium
48% daily value

Maintains muscle, nerve function, heart rhythm, support immune system, involved with 300 biochemical reactions

Iron
16% daily value

Manufactures hemoglobin, responsible for transporting oxygen, supports healthy hair, skin and nails

Pumpkin seeds also deliver a good dose of antioxidants, according to research published in Food Chemistry in 2013. Vitamin E and carotenoids in pumpkin seeds help reduce inflammation and protect your cells from the damaging effects of free radicals found in the environment, thus helping protect you from premature aging and chronic disease.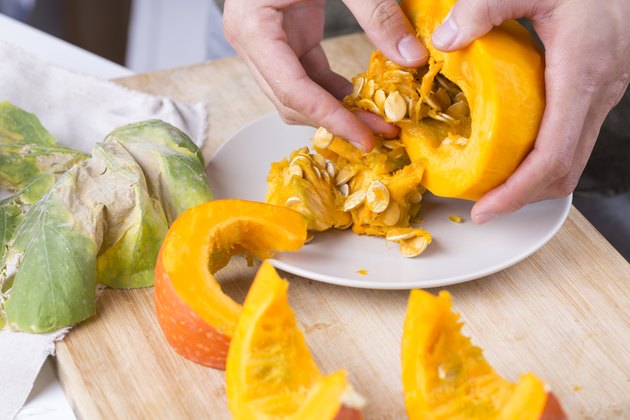 Additional Health Benefits of Pepitas
Pepitas may be small in size, but they're mighty in their health-boosting powers.
Preparation and Pepita Recipes
With a sweet, nutty taste and chewy texture, pepitas make a healthful addition to just about any sweet or savory recipe! A small handful really goes a long way. For a crunchy snack with versatile flavor options, the pepita makes a nutritionally sound, very satisfying choice.
Or try one of these pepita recipes or meal prep ideas:
What Do YOU Think?
Have you every tried eating pumpkin seeds or pepitas? Did you realize there was a difference? What's your favorite way to eat them? Did you know about all the potential health benefits? Share your thoughts, suggestions and questions in the comments below!
Additional reporting by Paula Martinac