Sweater weather, the turning of the leaves, pumpkin spice lattes. It's easy to see why so many of us fangirl over fall — it is America's favorite season after all, according to YouGov, a market research firm.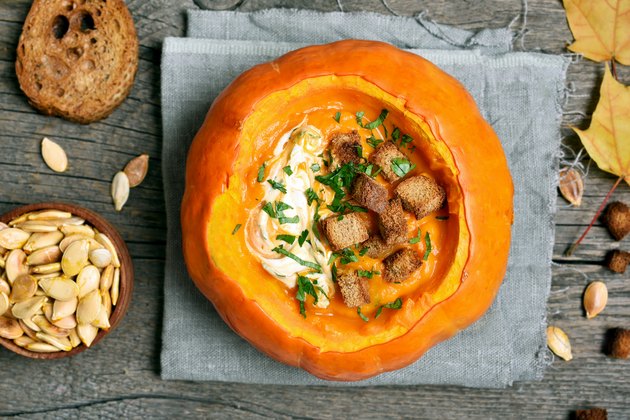 And with fall comes pumpkin, the "it" produce of the season, making its way into everything from pumpkin-spiced foods and drinks to holiday décor.
We're obviously fans of the veggie's nutritional benefits but we're big on pumpkin seeds, too. A one-ounce serving of pumpkin seeds offers five grams of fiber and five grams or protein. It's also an excellent source (providing more than 20 percent of the recommended daily amount) of zinc, magnesium and copper.
So if you find yourself with some leftover pumpkin seeds from this year's jack-o-lantern and aren't quite sure what to do with them, we've got you covered. Try these easy tricks on cleaning and roasting the seeds along with some recipes to enjoy.
How to Roast Pumpkin Seeds in the Oven
Before tossing the seeds into the oven, you'll want to remove as much of the pulp from the seeds as possible. The pulp is perfectly safe to eat, but it can affect the texture or flavor. The easiest way to do this is to soak the seeds in a bowl of water and use your hands to pull away the pulp. Strain once you're done.
To roast them, preheat the oven to 350 degrees Fahrenheit. Spread the seeds out into a single layer on a baking sheet, and once the oven has reached its temp, place them in to roast for 15 to 20 minutes.
Tip
Give the sheet pan a shake about 10 minutes in to keep the seeds from getting too brown on one side.
1. Sweet and Spicy Roasted Pumpkin Seeds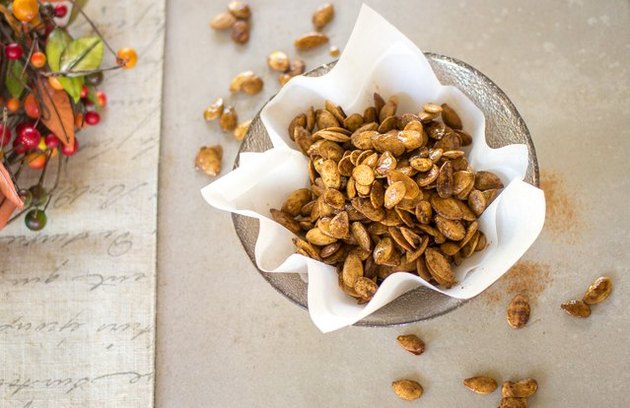 Before you put the pumpkin seeds in the oven, you can season them any way you want. You can go the savory route by adding herbs, spices and even Parmesan cheese. Or go the sweet route by including cocoa, cinnamon, nutmeg and a bit of honey or maple syrup. This recipe combines a little of both and it's delightfully sweet and spicy.
2. Fruit and Cheese Board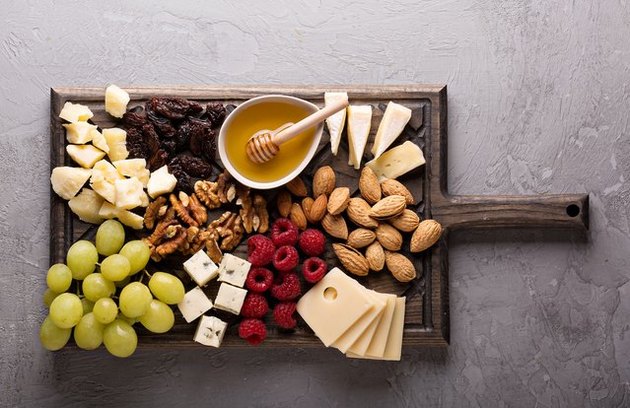 Add a little surprise and delight to holiday parties this year by adding pumpkin seeds into your fruit and cheese board. You can keep them plain as-is and let the cheese and fruit steal the spotlight or add a sprinkle of salt to help balance the fruit or any other sweet pairings. Fruit and cheese boards can be a healthy addition to a party if done right: Aim to fill yours with healthy nuts and seeds, fruit and whole-grain crackers along with some cheese.
3. Pumpkin Hummus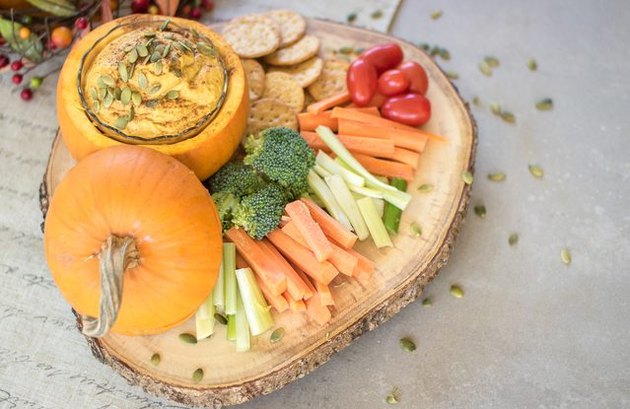 This one is a super-healthy fan favorite that can be enjoyed all season long. And the best part is, you're not even making the hummus from scratch. Just take your regular, unflavored hummus and add canned pumpkin along with some spices. You can add the pumpkin seeds to the top or mix them right into the hummus so you get a bit with each bite.
On its own, hummus is loaded with fiber and protein — and when you pair it with veggies or whole-grain crackers, you're adding even more of both macronutrients. For presentation bonus points at your next party, use the hummus to fill a small, hollowed-out sugar pumpkin.
4. Roasted Carrots With Pumpkin Seeds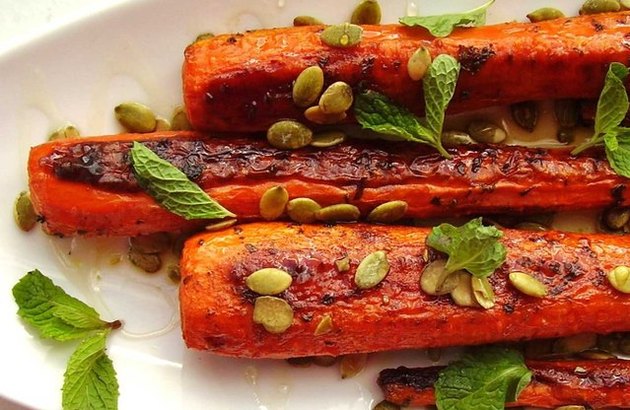 The perfect side to any fall dish, carrots are packed with vitamin A to help keep our eyes healthy and immune system strong along with a healthy dose of filling fiber, according to the National Institutes of Health. The mint and lemon in this recipe help bring out the naturally sweet flavor in the carrots. Top it with pumpkin seeds for an extra satisfying crunch.
5. Maple Spiced Cauliflower Roast With Pumpkin Gravy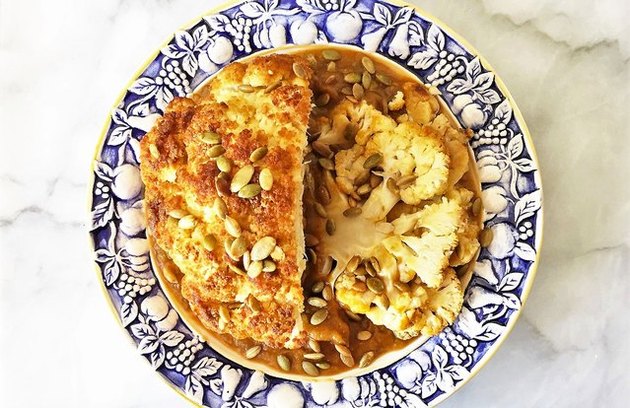 This recipe is a great plant-based option if you're looking to forgo the turkey this year. Instead, "carve" yourself a slice or two from this whole cauliflower topped with a pumpkin gravy made from pumpkin purée, cinnamon, maple syrup and spiced with cayenne and garlic powder.
Cauliflower belongs to the family of cruciferous vegetables which are rich in plant compounds that can lower inflammation in the body and reduce the risk of cancer, according to the Academy of Nutrition and Dietetics. Another bonus: It's topped with whole pumpkin seeds for extra crunch.
6. Curried Chicken and Acorn Squash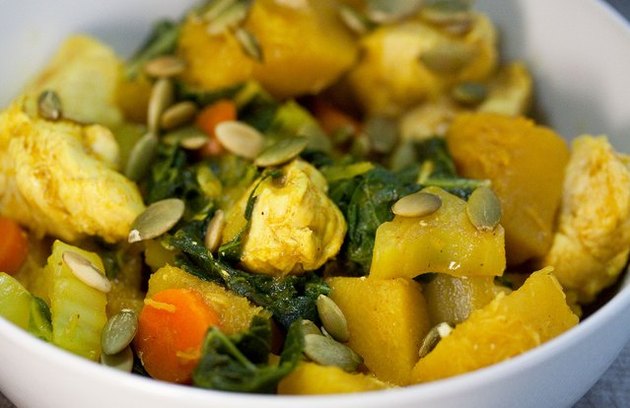 Nothing beats a warm bowl of curry to keep you warm this fall. This dish includes acorn squash, lean chicken, bok choy and carrots along with pepitas, which soften a bit in the curry. Acorn squash, like other orange and yellow squash, is loaded with beta-carotene, which helps make vitamin A in the body, according to the NIH.