Chia seeds are a rich source of omega-3 fatty acids, soluble and insoluble fiber, protein and antioxidants, according to the Academy of Nutrition and Dietetics. Chia, a member of the mint family, comes out on top when compared to flax seeds, a common plant source of omega-3 fatty acids. Consume the seeds raw or soak them to use in cooking.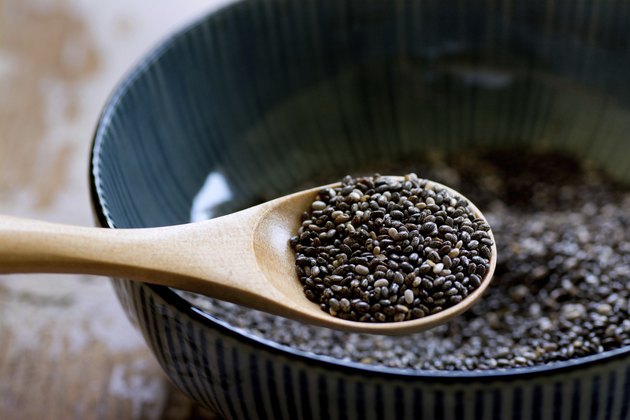 Soaking Chia
Unlike flax seeds, whole chia seeds are digestible, so you can eat them whole. However, if you soak them in water, they form a gel that you can use in beverages or cooking. To soak, place one part seeds into nine parts water for 30 minutes. Some seeds will be left in the gel, but can be incorporated into the final product for the extra nutrition.
Egg and Fat Replacer
You can replace 25 percent of the oil or egg in a cake recipe with chia gel without impacting taste or texture, according to a study published in the "Journal of the Academy of Nutrition and Dietetics". This simple change increases omega-3 fat in the final cake threefold. The study attempted to replace 50 and 75 percent of the oil and egg, which did increase the omega-3 fats even more, but found the end products were not as appealing to tasters.
Chia Nutrients
One ounce, or 6 teaspoons, of chia seeds provides 179 milligrams of calcium, 11 grams of fiber, 138 calories and about 4.5 grams of protein, according to the U.S. Department of Agriculture's nutrient database. The seeds also contain phosphorus, potassium and traces of zinc and manganese. Two teaspoons of the dried seeds meets the adequate intake set for the essential omega-3 fatty acid, alpha-linolenic acid, which is 1.6 grams per day.
Reap the Benefits
Chia seeds may decrease your risk for heart disease by lowering blood cholesterol and triglyceride levels and reducing blood pressure, according to the Academy of Nutrition and Dietetics. More research is needed to realize the full impact of chia seeds on human health.