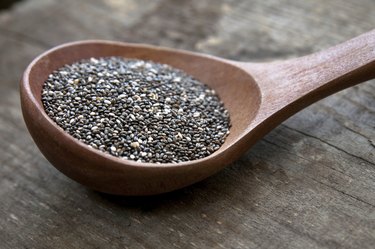 Available in both black and white varieties, chia seeds offer outstanding nutritional and therapeutic benefits for nursing mothers and babies. They provide antioxidant, laxative, antidepressant, anti-anxiety and analgesic benefits that can help with the stresses of pregnancy and nursing. Add the omega-3 fatty acids, dietary fiber, protein, vitamins and minerals, and you've got one of the best foods for breastfeeding moms.
Calories and Breastfeeding
If you're breastfeeding, you might feel constantly hungry because of the amount of calories it takes to make each ounce of milk. When breastfeeding, your body is supplying both your own needs and those of your newborn. Mayo Clinic recommends that you try to increase your intake by an additional 330 to 400 calories a day while lactating. Chia seeds contribute 139 calories per ounce — about 2 tablespoons — according to the USDA National Nutrient Database.
Fiber is important for overall good health and very beneficial if you're breastfeeding. USDA Dietary Reference Intakes says nursing mothers need 29 grams of fiber each day. With 11 grams of fiber per ounce, as little as 4 tablespoons of chia seeds supply almost all the daily recommended fiber target for your body.
Fiber promotes better digestion that could prevent problems such as bloating and constipation, which are common during and after pregnancy. In addition, like all high-fiber foods, chia seeds absorb water and not only provide volume but take longer to digest, making you feel full longer. This may help control snacking and overeating while you're trying to lose those extra pounds from pregnancy.
Increase Your Protein With Chia
Your baby's body needs protein to facilitate physical growth and healthy development, and that protein has to come from you. Since the strain and demands of pregnancy and childbirth may take a toll on your body, the USDA Dietary Reference Intakes suggests that nursing moms add 25 grams of protein each day over and above the usual intake. The protein content of chia seeds ranges from 18.8 to 21.5 percent per ounce, reports the Journal of Food Science and Technology in a 2016 study, making it a good protein source. Since the protein content from chia seeds is plant-based, it's the easiest kind to digest and ideal if you're a vegetarian.
Best Source: Essential Fatty Acids
Chia seeds are known as the powerhouse of omega fatty acids. Of all the known food sources, chia contains the highest concentration of omega-3 and omega-6 fatty acids, according to a 2016 study published in the Journal of Food Science and Technology. Fatty acids help to boost your baby's immune system and also aid in the development of the brain and nervous system. If you're a vegetarian, you may not be getting sufficient amounts of omega-3 fatty acids, so chia seeds may be a healthy addition to your diet.
A study published in Nutrients in 2015 reported that the consumption of chia oil during the first three months of breastfeeding increases the omega-3 content of milk, which is transferred to babies. With its high nutrient content, chia seeds may increase milk supply as well.
Calcium in chia seeds, transferred by your milk, can contribute to the development of healthy bones and teeth in your child. Calcium is useful to help you, as a mother, to rejuvenate your bones after pregnancy and delivery. Chia seeds provide 268 milligrams of calcium in a 3-tablespoon serving, which is almost the same amount of calcium found in 1 cup of milk, according to the USDA Branded Food Products Database. Lactating mothers should consume 1,000 milligrams of calcium a day, as stated by USDA Dietary Reference Intakes, and a serving of chia is an ideal, dairy-free source of this mineral.
Manganese, Magnesium and Phosphorus
Chia seeds contain many other healthy minerals, providing benefits from magnesium, manganese and phosphorus, all of which benefit you and your growing baby. Just 2 tablespoons of chia seeds provide 35 percent of the daily value for phosphorus to give you energy, 24 percent DV for magnesium for healthy bones and muscles, and about 50 percent DV for manganese for metabolism of fat and carbohydrates.
Eating Chia Seeds While Breastfeeding
Chia seeds are normally used in small quantities as an addition to foods and can boost the nutrition of items like baked pastries and snacks. How much chia seed should you eat? There's no suggested amount, but 2 to 3 tablespoons daily would be a healthy addition to your daily diet.
Due to the danger of the seeds swelling in the esophagus — as reported in the American Journal of Gastroenterology in 2014 — it's important to remember not to eat dry chia seeds by themselves. Chia seeds can absorb up to 27 times their weight in water, so it's advisable to presoak the seeds or add them to soft or liquid foods, such as yogurt, oatmeal, smoothies or soup, to make them a healthy food for breastfeeding moms.