Alcohol and weight loss don't mix, but that doesn't mean you must deprive yourself of an occasional drink. As with any diet, watching what you consume and counting calories is what matters, and it needn't be any different with alcohol.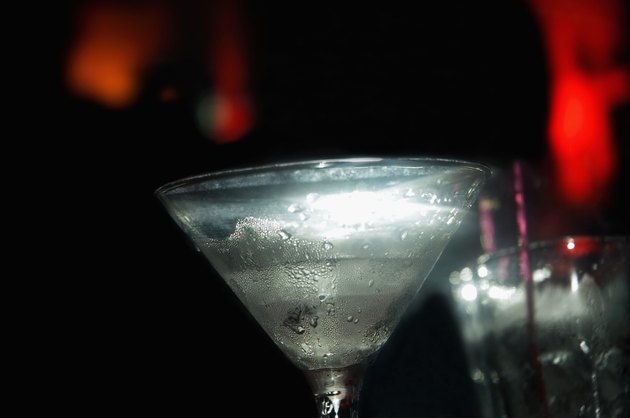 The Facts
According to Robert S. Gold, dean of the College of Health and Human Performance at the University of Maryland, alcohol, when compared with other substances, ranks high on the caloric value chart. Comprising approximately seven calories per gram, pure alcohol contains almost double that of carbohydrates and protein, which contain four calories per gram. Alcohol is not far off from pure fat, which contains about nine calories per gram.
Types
Both red and white wine contain around 100 calories per 5 oz. glass, while hard liquor varies in caloric value depending on its type. Vodka and whiskey for example, average 104 calories per 1.5 oz. serving, or shot glass, while some gins and rums drop below 100 calories. Although not much higher than wine, the difference with drinking hard liquor is the way it's served because it is usually mixed with soft drinks that are high in calories. Beer averages 150 calories per 12 oz. serving, while light beer contains about108 calories.
Solution/Prevention
Although it's best to avoid alcohol altogether, it isn't the only answer. By choosing the right liquor, and counting its calories the way you would your food, you can get away with an occasional drink and stay true to your diet. That said, wine is by far your best option. Not only does it contain fewer calories than most other alcohols, it's also free of cholesterol and sodium. If you're going to drink hard liquor, stick to whiskey, vodka or gin, and don't mix it with sugary liquids such as juice and soda. If you prefer beer, opt for a light beer and avoid liqueurs because they contain the highest calorie counts of all.
Warning
If you plan to indulge in some alcohol while dieting, be aware of the potential dangers of doing so. Alcohol reduces inhibitions, which can play havoc with your weight loss plan, especially when consumed within a social context where drinks are accompanied by snacks. Also, when you drink alcohol your body burns it first and postpones the burning of carbohydrates and fats, thus slowing down the weight-loss process.
Considerations
In spite of dieting risks associated with alcohol, some benefits are possible. According to Thomas Stuttaford, author of "To Your Good Health! The Wise Drinkers Guide," drinking beer, wine and spirits in moderation is beneficial to health and longevity because it raises omega-3 fatty acid levels and improves overall cardiovascular function.