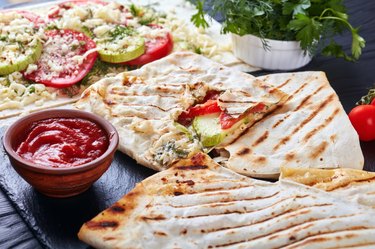 Subway flatbread nutrition involves fiber, because of the whole wheat flour content. However, flatbread sandwiches may be either healthy or unhealthy, depending on the selection of fillings and condiments. Try to choose those that are low in calories, fat and sodium.
Tip
The nutritional profile of Subway flatbread sandwiches varies with the choice of fillings and condiments.
Subway Flatbread Nutrition
From a nutritional perspective, Subway's 6-inch artisan flatbread contains:
220 calories
40 calories from fat
4 grams of total fat
0.5 gram of saturated fat
330 milligrams of sodium
41 grams of carbohydrates
4 grams of fiber
3 grams of sugar
8 grams of protein
The total nutrition of flatbread sandwiches varies with the sandwich fillings and condiments you choose.
Aside from offering flatbread sandwiches, Subway has flatbread breakfast sandwiches and flatbread pizza on the menu. All of these are high in calories, fat, sodium and carbohydrates.
Subway flatbread's carbs (41 grams) fall in the middle range among the different bread varieties. Carbohydrates in the breads range from 36 grams in a loaf of 9-Grain Wheat to 39 grams in a loaf of 9-Grain Honey Oat to 48 grams in the wraps.

Because the number of carbs in a Subway wrap is quite high, and this type of sandwich contains too much fat and sodium, opt for the flatbread or 9-Grain Wheat sandwiches. The carbohydrate amounts don't vary greatly across the various meat-based sandwich filings.
The healthiest subway breads are the Flatbread, the 9-Grain Wheat and the 9-Grain Honey Oat, because they're all made with whole grain flour, which is rich in fiber and minerals. The other breads aren't made with a whole grain, so they would be considered refined grains, which are almost completely devoid of fiber.
Fillings and Cheeses
One of the main differences between Subway sandwiches lies in their fat content. Sandwiches that fall into the FreshFit category, such as turkey, roast beef and chicken, are considerably lower in fat than sandwiches made with meatballs or Italian meats. The VeggieDelight is another healthy option, recommends GirlsHealth.
As a general rule, the plainer sandwiches are lower in fat than those embellished with sauces and cheese. Below is nutrition information on a few fillings on the menu:
Turkey breast has 60 calories and 1 gram of fat
Roast beef has 90 calories and 2.5 grams of fat
Roasted chicken patties have 70 calories and 1.5 grams of fat
Meatballs have 250 calories and 16 grams of fat
Spicy Italian meats have 250 calories and 22 grams of fat
The choice of cheese is another way to cut calories and fat. Those in the least caloric category include feta cheese, which contains 35 calories and 2 grams of fat, and mozzarella cheese, which contains 40 calories and 3 grams of fat. Cheeses in the highest caloric category include cheddar, with 60 calories and 4.5 grams of fat, and Swiss, with 50 calories and 4.5 grams of fat.
Sauces and Vegetables
Be careful with sauces. Some are high in fat, while others are high in sodium or sugar. If you're watching calories, fat and carbohydrates, yellow mustard, or the Subway vinaigrette, would be good picks. Pay attention to the sugar content if you're watching carbohydrates. The following are nutrition profiles on some condiments on the menu:
Yellow mustard has 10 calories, 0.5 grams of fat, 170 milligrams of sodium and 0 grams of sugar
Subway vinaigrette has 35 calories, 3.5 grams of fat, 110 milligrams of sodium and 1 gram of sugar
Mayo contains 100 calories, 11 grams of fat, 65 milligrams of sodium and 0 grams of sugar
Savory Caesar dressing contains 80 calories, 9 grams of fat, 150 milligrams of sodium and 0 grams of sugar
All of the vegetables are low in calories and fat, but high in fiber and healthy nutrients. Since they add flavor, crunch and visual appeal, load up your sandwiches with these ingredients. The only vegetable at Subway that contains considerable calories is avocados, but their fat content is very healthy, so include them as well.
Subway has a reputation for having healthier food than other fast food chains. A small October, 2013 study published in the Journal of Adolescent Health found that despite offering an array of vegetables for dressing a sandwich, it doesn't necessarily translate into healthier food purchasing.
In the Journal of Adolescent Health study, the meals from Subway and McDonald's purchased by 97 adolescent participants on different days contained about the same number of calories. These results underscore the importance of choosing sandwich breads and fillings carefully.
Because Subway sandwiches tend to be high in salt, the American College of Healthcare Sciences ranked the franchise #2 in its list of the five restaurants most dangerous to health. The institution says that 18 of their 6-inch sandwiches made with 9-grain wheat bread contain more than 1,000 milligrams sodium — and that doesn't include salty sauces and cheeses.