If you're looking to boost your protein intake on a vegetarian diet, keep in mind that the recommended dietary allowance for adult men is 56 grams of protein per day and 46 grams for women. If you aren't already meeting your protein needs from your current diet, the good news is that with proper planning, it is possible to create a balanced vegetarian meal plan that is protein-rich.
When to Increase Protein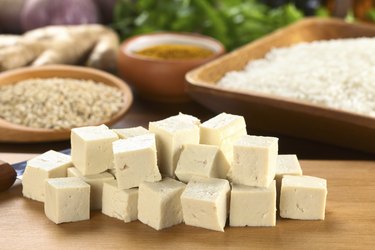 Not everyone needs as much protein as he may think. In fact, most Americans eat too much protein. Individuals with chronic diseases such as stage-5 kidney disease on dialysis or HIV/AIDS are often given a nutrition prescription that involves increased protein intake. Some athletes have similar increased protein needs. Reed Mangels, a registered dietitian at the Vegetarian Resource Group, writes that for most people, only about one calorie out of every 10 you eat needs to come from protein. Vegan athletes, however, can have increased needs, which range from 0.36 to 0.86 grams of protein per pound.
Winning Breakfast Ideas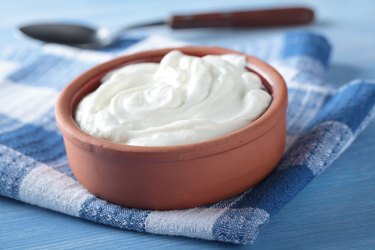 Eggs, tofu, nonfat Greek plain yogurt, nut butters and all healthy protein-rich foods can be incorporated into a balanced breakfast. Consider adding one serving of tofu or nonfat Greek yogurt to your breakfast smoothie. Additionally, add 2 cups of your favorite greens with 1 tablespoon of chia seeds, 1/2 cup of almond milk and 1/2 cup of frozen blueberries. For a cooked breakfast, try whipping up a vegetarian omelet using five egg whites, which together offer 18 grams of protein power. Stuff the omelet with spinach and sauteed onions and peppers, and add 1 ounce of graded cheddar cheese to the mix if desired. If eggs are not your flavor, saute 1/2 cup of tofu "scramble" and season it with curry and garlic powder.
Protein-Packed Lunches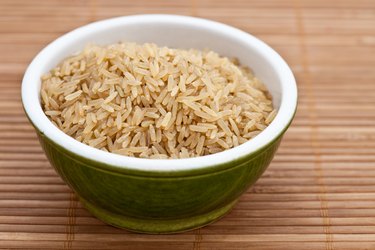 In addition to beans, tofu, eggs and nuts, whole grains are another healthy source of protein. One cup of cooked brown rice contains 5 grams of protein, while two slices of whole wheat bread offer 7 grams. At lunchtime, make black bean tacos. Divide 1/2 cup of cooked black beans between two blue corn tortillas, providing provides about 17 grams of protein collectively. Add chopped spinach, tomatoes and grated carrots for the filling. For soup lovers, lentils offer a protein punch -- at 18 grams per cup. Make a big batch of soup over the weekend, and pack it for lunch throughout the week.
Protein at Dinner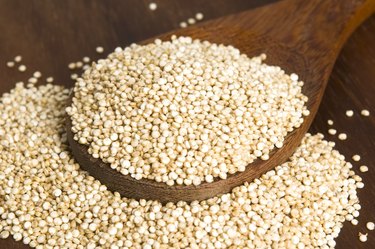 Quinoa is loved by vegetarians and meat eaters alike because it contains all of the essential amino acids, making it a whole grain that is also a complete protein. For a protein-rich dinner, mix 1 cup of quinoa -- providing 8 grams of protein -- with 1 cup of red beans, which offers 15 grams of protein. To flavor, saute it with garlic, onion and other fresh vegetables. Add salt and pepper to taste. Many vegetables also provide protein. For example, you'll get 5 grams of protein in 1 cup of cooked spinach and 4 grams in a cup of cooked broccoli. Saute 1 cup of broccoli with 1/2 cup of tempeh, and serve over 1/2 cup of brown rice -- together, this will provide 22 grams of healthy protein. Have a cup of soy milk to any meal for an added 7 grams of protein.