Gentamicin ophthalmic solution, also known by the brand name Genoptic, is a prescription antibiotic commonly prescribed to prevent and treat bacterial eye infections, such as conjunctivitis, in infants and children. The adverse affects associated with gentamicin use are typically mild. However, improper use of gentamicin eye drops can lead to more serious complications. Therefore, it is important to follow your pediatrician's instructions to minimize any adverse affects from this drug.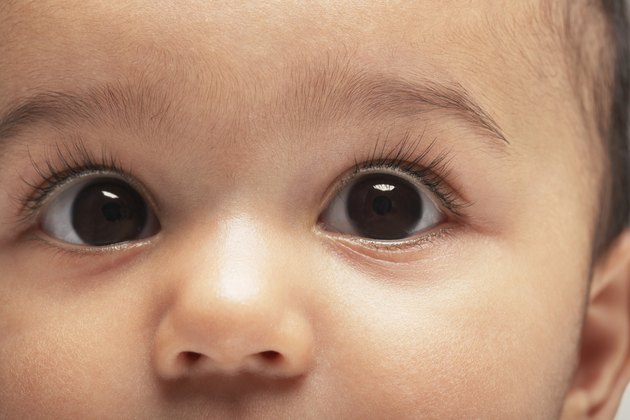 Irritation
According to RxList.com, irritation and ocular burning are the two most common side effects of gentamicin eye drops. Babies may also experience stinging, redness, itching, sensitivity to light and blurred vision. In addition, gentamicin drops can affect the eyelids, causing itching or swelling. Since infants are unable to verbalize these types of discomfort, it is important to assess them for signs of pain. Babies may appear irritable, cry frequently, rub, scratch or pick at their eyes or eyelids. A pediatrician should be able to suggest ways to help lessen the baby's discomfort.
Secondary Infections
Occasionally, babies using gentamicin eye drops may develop secondary infections. These infections can be caused by bacterial resistance to the drug, contamination of the drug itself or an overgrowth of organisms that are resistant to gentamicin, such as different types of fungi. Signs of a secondary infection include the development of new eye symptoms during treatment, such as pain, swelling or green or yellow eye discharge, according to RxList.
Caregivers can protect infants from secondary infections in several ways. Proper hand washing prior to the instillation of eye drops is essential. It is also important not to touch the tip of the drop instiller and to keep it from coming in contact with the eye or any other surfaces during use. Failure to do so may contaminate the medication, allowing bacteria to grow within the drop solution. In addition, discontinuing antibiotic drops too soon or using them longer than directed by your pediatrician can lead to bacterial resistance.
Allergic Reactions
As with all medications, certain babies may be allergic to gentamicin eye drops. According to KidsHealth, an information website sponsored by the Nemours Foundation, an allergic reaction to this medication is considered a medical emergency. Symptoms of an allergic reaction include wheezing, chest tightness, fever, itching, severe cough, cyanosis and swelling of the face, lips, tongue or throat. If your child experiences any of these symptoms after using gentamicin eye drops, contact your pediatrician or seek medical attention immediately.