In an effort to lose weight, it's easy to be tempted by various fad diets. One such variation is the high-fat diet. Generally recommended alongside carbohydrate restriction, high-fat diets like the Atkins diet advocate eating a high percentage of calories from fat in an effort to control blood sugar levels and trigger fat burning. Although high-fat diets may have some merit for weight loss, they also present some serious risks which must be considered.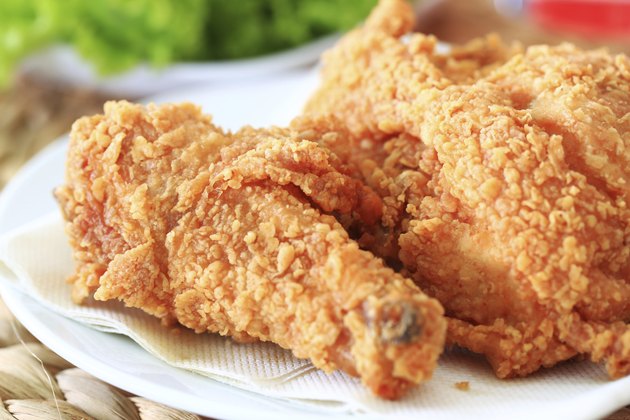 Weight Gain
No matter what type of diet you follow, you must still eat fewer calories than you burn to lose weight. Fat contains more than twice the calories of protein and carbohydrates, making it easier to take in too many calories. Although eating high fat foods may be satiating, a diet high in protein will allow you to eat far more food than a high-fat diet will.
Constipation
High fat diets typically involve limiting your consumption of high-fiber foods like fruits and grains. Without fiber to maintain digestive health, you can easily become constipated and experience abdominal bloating. Nutrition experts such as Mauro Di Pasquale M.D., author of "The Metabolic Diet," recommend high-fat dieters use a fiber supplement like psyllium husk.
Slower Metabolism
If taken to the extreme, a high-fat diet can result in ketosis, a process in which fats are broken down for energy in the absence of glucose from carbohydrates. Ketosis is a catabolic condition which quickly wastes muscle, slowing your metabolism. A slow metabolism makes it harder to lose weight, undermining your fat loss efforts.
Heart Disease
The most serious risk of high fat diets is heart disease. High-fat diets typically recommend foods high in saturated fats like beef, bacon and dark-meat poultry. According to the American Heart Association, a diet high in saturated fat can dramatically raise your cholesterol, increasing your risk of heart disease. The AHA recommends limiting your total fat intake to between 25 to 35 percent of total calories with only 7 percent coming by way of saturated fats.