The National Cancer Institute reports small cell lung cancer as the most aggressive lung cancer; without treatment, average survival is two to four months. End-of-life care becomes a central issue as this progressive disease enters the final stages. Symptoms of end-stage lung cancer consist of general symptoms of organ failure and symptoms that occur specifically with the disease.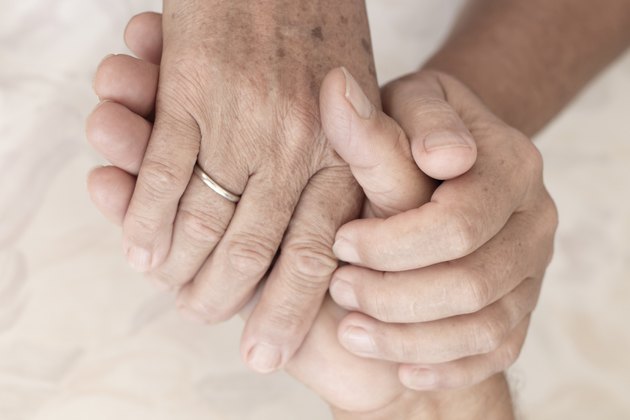 Breathing Changes
Lung cancer patients commonly experience shortness of breath as part of their disease process due to the tumor growth and fluid buildup in the lungs. The National Cancer Institute also describes a gurgling sound during breathing near the end stages of cancer. This condition occurs because of the buildup of saliva in the back of the throat. It is not believed to be discomforting for the patient. Other breathing changes that occur include slowed or increased breathing, shallow breathing or short periods of no breathing.
Change in Circulation
Blood circulation begins to slow at the end of life, and many areas of the body receive less blood. As a result hands, arms, and other parts of the body become cool to the touch. Nails change from pink to gray or blue due to lack of oxygenated blood flow. A condition known as mottling occurs in the legs and arms. Mottling appears as a blotchy bluish or purple pattern and also occurs due to decreased blood flow.
Confusion and Agitation
According to The End of Life Handbook, restlessness, called terminal restlessness, occasionally occurs near the end of life. Confusion and disorientation can occur due to slow metabolism and lack of blood flow to the brain. Small cell lung cancer also commonly spreads to the brain and contributes to confusion. Patients tend to withdraw from family and friends prior to the end and begin to sleep more. Near the end, most patients with lung cancer will slip into a coma-like state in which they do not respond.
Pain
Pain does occur commonly with small cell lung cancer. Small cell lung cancer commonly spreads to the bone, liver and brain and can cause pain in any area of tumor spread, including within the lungs.
Other Changes
"Medical Surgical Nursing" lists other changes in the end of life including loss of bowel and bladder function due to muscle relaxation. Often patients with terminal illness lose the desire to eat and drink. As the body begins to shut down, less nutrition is required. Symptoms related to small cancer that spreads to the brain include blurred vision, weakness, paralysis, nausea, pain and behavior changes.