Calcium chloride is a type of calcium salt used for many purposes, including de-icing sidewalks and acting as a stabilizer in foods. Calcium chloride solutions are sometimes used in medicine to treat hypocalcemia (when the body has too little calcium); it may alleviate symptoms of depression from a magnesium sulfate overdose; or it may be used in open-heart surgery to stimulate heart contractions, according to RxList. Although it is generally considered safe for humans to handle, some dangers exist if too much enters the body.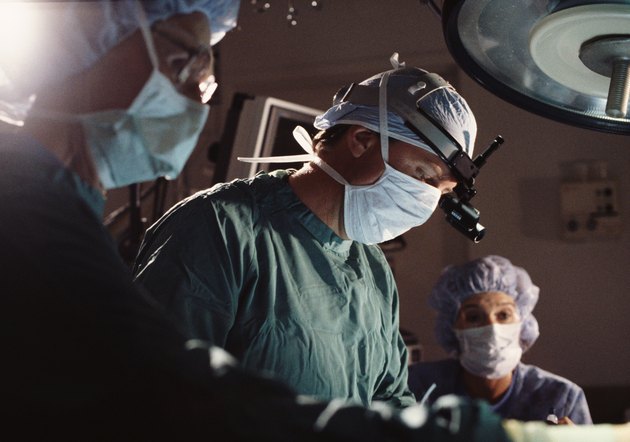 Gastrointestinal Distress
Calcium chloride can cause a burning pain in the stomach, nausea and vomiting if ingested, according to the International Programme on Chemical Safety, or IPCS. To avoid ingestion, the IPCS recommends you do not eat, drink or smoke while working with calcium chloride. If you accidentally ingest calcium chloride, drink plenty of water and contact a physician immediately.
Skin Reactions
Prolonged skin exposure to calcium chloride may cause dry and irritated skin, according to the IPCS. To treat skin reactions, wash with plenty of soap and water. See a physician if the irritation does not go away, gets worse or is bothersome. To avoid skin irritation from calcium chloride exposure, the IPCS recommends using gloves and wearing long pants and long sleeves when working with calcium chloride.
Lung Damage
If inhaled regularly, calcium chloride can create lesions in the mucous membranes that line the nose, throat and lungs, according to the IPCS. To avoid damage from inhalation, you should always wear a mask when working with calcium chloride. If you begin coughing or have a sore throat while working with calcium chloride, the IPCS recommends moving into fresh air or a well-ventilated area and resting until your symptoms subside. If symptoms persist, see your doctor.