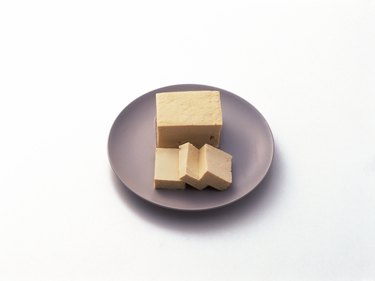 Calcium sulfate, a food additive used to stabilize and firm foods and regulate their acidity levels, is found in a variety of processed foods. In the amounts typically found in food and supplements, calcium sulfate isn't likely to cause adverse effects and is generally regarded as safe by the U.S. Food and Drug Administration.
Fruits and Vegetables
Fresh fruit and vegetables aren't likely to contain calcium sulfate, but processed versions are. This includes processed fruits, dried vegetables, canned vegetables, vegetables in sauce and precooked vegetables. Buy fresh or frozen fruits and vegetables if you're trying to avoid calcium sulfate.
Dairy and Grain Products
Creams, dairy-based drinks, condensed milk, milk powder, cheese, whey and dairy-based desserts can all contain calcium sulfate. Calcium sulfate is sometimes used as a flour treatment agent, making it common in grain-based foods, such as pastas, breakfast cereals, batters, rice products and bakery products.
Meat and Other Protein Sources
Calcium sulfate adds calcium to supplements and foods, such as tofu, which contains 14 to 25 percent of the daily value for calcium in each 1/2-cup serving when made with this additive. Other soybean products may also contain calcium sulfate.
Acidic calcium sulfate may be used to keep hot dogs from becoming contaminated with the foodborne illness listeria. Sausage casings, processed meats and poultry, preserved seafood products and preserved or dried egg products may also contain calcium sulfate.
Other Foods
Sherbet, products containing a mix of oil and water, fat spreads, nut butters, candies, custards, sweeteners, seasonings, condiments, sauces, yeast, soups and diet products may contain calcium sulfate. It's used in many beverages, including energy or sports drinks and alcoholic beverages. Any prepared, ready-to-eat food may also be a source of this additive.