Making healthy food choices is crucial for maintaining optimal health and preventing acute and chronic disease. To ensure adequate yet not excessive protein intake, it's key to be familiar with serving sizes. In fact, one 3-ounce serving of meat is equal to approximately 21 grams of protein.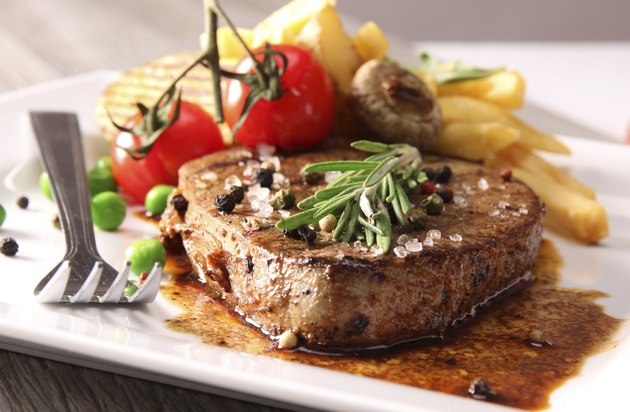 Protein Recommendations
Protein serves as a building block for the creation of muscle, bone, skin and hair, and it performs many other important functions in the body. Depending on your health status and physical activity level, your protein requirements may vary -- however, most people need about 0.8 gram of protein per kilogram of body weight each day. A man who weighs 150 pounds, or 68 kilograms, would be advised to consume 55 grams of protein each day to meet his body's normal demands.
Serving Size in Ounces
A 2- to 3-ounce portion of cooked meat, chicken or fish -- all of which are protein-rich foods -- is the equivalent of one serving, reports the American Heart Association. Using everyday products as comparison tools can be an effective way to keep serving sizes in check. According to BreastCancer.org, a deck of cards represents a 3-ounce serving of meat or poultry. Similarly, a checkbook is a good representation of a three-ounce portion of fish.
Grams of Protein Per Serving
Each ounce of cooked meat provides around 7 grams of protein, notes Taste of Home. If you ate a 3-ounce serving of chicken for lunch, then, you could expect to consume around 21 grams of protein from this food. Many restaurants serve larger portions of meat, so you would need to multiply the number of ounces times 7 to calculate the grams of protein. For instance, an 8-ounce steak would contain 56 grams of protein.
Making Healthy Choices
To incorporate protein-rich meat into your diet in a healthy way, choose skinless poultry and red meat that features only limited amounts of visible fat. Fish, which is rich in omega-3 fatty acids, is another healthy protein choice and should be incorporated into a balanced diet at least twice per week. Beans, peas, nuts and soy-based products are also rich in protein and are a great choice for vegetarians, vegans and people with limited access to meat.