As a preservative, calcium chloride is found in a variety of snacks, beverages, sports drinks and specialty items. Calcium chloride prevents food spoilage, but also provides the essential mineral calcium, increasing the nutritional quality of the product. Due to increased concerns about high sodium content of foods and lack of adequate calcium intake, many manufacturers add calcium chloride, which has a slightly salty taste, instead of sodium chloride or table salt to their products.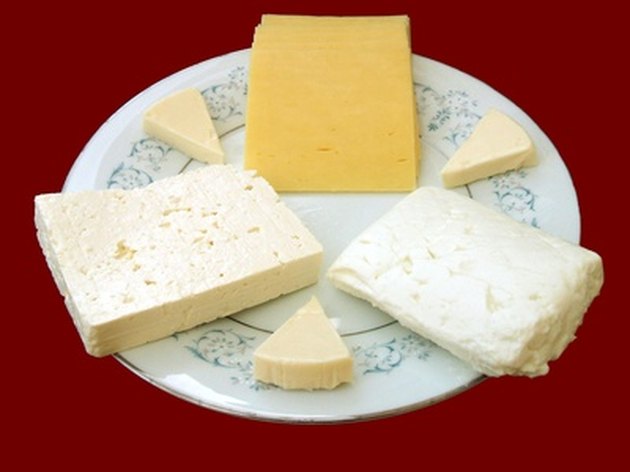 Canned Tomatoes
Canned tomatoes contain calcium chloride as both a preservative and to improve the overall nutrition and quality of the product. Many brands of canned whole and diced tomatoes, for example, contain calcium chloride which acts to maintain tomato firmness. Low-sodium or no-sodium added canned tomato products add calcium chloride to impart a slightly salty taste without adding sodium. Brands without added calcium chloride appear mushy and have an overall mealy texture. The firmer texture provided by calcium chloride allows the canned tomatoes to hold up better when cooked.
Beverages
Many beverages add calcium chloride as part of their overall electrolyte replenishing formulation. In the United Kingdom, calcium addition is a legal requirement in all bottled water products. Dr. Lee Coyne, a nutritional consultant, lecturer and author, indicated that products labeled as "sports drinks' provide electrolytes lost through perspiration during heavy prolonged exercise. He notes that the best drinks include six electrolytes, including calcium and chloride.
Tofu and Soybean Curd
Tofu, also known as soybean curd, involves coagulating or precipitating soy proteins out of soy milk and pressing the resulting curds. Precipitation of soy protein, a delicate process, involves the addition of salt; traditionally either calcium sulfate or calcium chloride. Manufacturers often use calcium chloride as it requires less skill than calcium sulfate, and only half the amount is required due to its increased solubility. Calcium chloride itself has no perceivable taste on the final product, but does ensure that the resulting tofu is rich in calcium, an important mineral for treating and preventing osteoporosis.
Cheese
Similarly to tofu manufacturing, cheese production also requires the addition of salt to aid milk protein coagulation and precipitation, particularly when using pasteurized milk. Pasteurized milk depletes milk of calcium. The addition of calcium chloride aids coagulation helping form cheese curds and ensures that the curd does not fall apart upon stirring. A variety of cheeses, including soft cheeses such as mozzarella and hard cheese such as cheddar, include calcium chloride.
Apples
Calcium chloride preserves fresh apple slices, preventing the formation of the brown color caused by contact of the apple slices with oxygen. A combination of ascorbic acid, calcium chloride and sodium bicarbonate yields a synergistic effect, eliminating the use of sulfites, which often gives the apples an unpleasant taste or odor. Calcium chloride can also be added in the creation of specialty apple foods. Chef Ferrán Adriá of El Bulli - Roses, Spain uses calcium chloride to create a unique apple delicacy. Releasing a frozen pureed apple mixture into a solution of calcium chloride, Chef Ferrán Adriá then quickly cooks, strains and rinses the mixture, creating apple caviar.