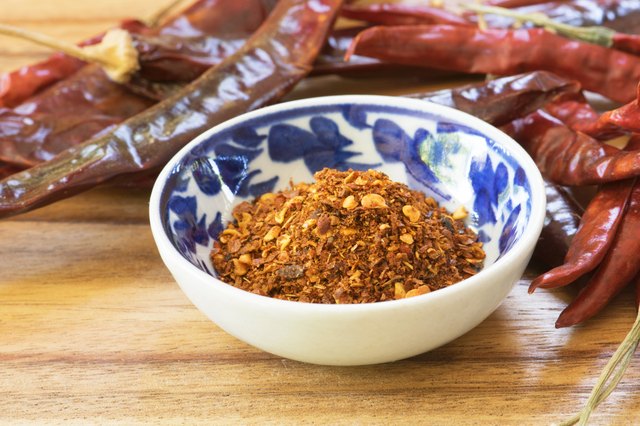 The cayenne pepper weight loss drink is part of the Master Cleanse diet, which is a detox diet. Although some evidence exists for using cayenne pepper for weight loss, more scientific proof is needed to recommend both the drink and the Master Cleanse diet for weight loss. Check with your doctor before using the drink to ensure it would be safe for you.
Cayenne Pepper Drink and the Master Cleanse Diet
The cayenne pepper drink sometimes used for weight loss comes from the Master Cleanse diet, which recommends drinking between 6 and 12 glasses daily of a mix of cayenne pepper, maple syrup and lemon juice in water along with drinking 4 cups of saltwater every morning and a laxative tea each night for a period of at least 10 days. While the combination of this very-low-calorie diet and the laxatives practically ensures you'll lose some weight, it will be mostly water weight and some lean muscle, so the weight loss isn't likely to be lasting.
Cayenne Pepper and Weight Loss
You may be better off drinking green tea and adding cayenne to your food than drinking a somewhat unpleasant drink containing cayenne. A classic study published in the British Journal of Nutrition found that adding red pepper to a meal high in carbohydrate helped make the meal seem higher in fat than it really was and slightly increased metabolism and fat burning when added to meals high in fat. The study group was very small, so more research is needed to confirm the results, but theoretically the cayenne may help slightly with weight loss. Another study, published in Clinical Nutrition in 2009, found that a mix of green tea and a substance found in cayenne peppers called capsaicin helped people on reduced-calorie diets feel less hungry. Even if cayenne pepper doesn't help increase weight loss, it may help improve body composition. A study published in The American Journal of Clinical Nutrition in 2009 found that cayenne pepper may help reduce abdominal fat more than taking a placebo even though it didn't increase weight loss.
Potential Health Considerations
While the drink itself isn't necessary harmful, the Master Cleanse Diet is very low in calories, with only about 650 calories per day. Diets lower than 1,200 calories per day for women or 1,800 calories per day for men can slow down your metabolism, slowing down weight loss and making weight regain more likely once you go back to eating regularly. This diet could also make kidney or heart conditions worse and cause potential side effects including decreased immune function, nutrient deficiencies, irritability, fatigue, vomiting and nausea.
According to Drugs.com, evidence is mixed as to the link between capsaicin and cancer, with some studies showing it may increase risk, while others show a potential decreased risk. Some people experience diarrhea or upset stomach when consuming large amounts of capsaicin. Cayenne pepper may interact with certain medications, including those for reducing stomach acid, ACE inhibitors, aspirin, diabetes medications and blood thinners. If you're allergic to bananas, avocado, kiwi fruit, chestnuts or latex, you may also have a cayenne allergy.
A Healthier Way to Lose Weight
While spicing up your meals with a little cayenne may slightly increase weight loss, to lose a significant amount of weight, you need to follow a balanced reduced-calorie diet. For each pound of weight loss per week, it's necessary to create a 500 calorie deficit each day either from eating less, exercising more or through a combination of both. Including protein and fiber in each meal will help make your meals more filling. Concentrate on eating mainly whole foods, such as vegetables, fruits, whole grains and lean protein sources, and eat fewer foods made with refined grains or lots of sugar or fat, as these don't tend to be filling but provide a lot of calories. Try to get at least 300 minutes of moderately intense aerobic activity and participate in at least two strength training sessions per week to increase weight loss while minimizing muscle loss.