Omega-3 fats are a type of polyunsaturated fatty acid. There are three types of omega-3 fatty acids: alpha-linoleic acid (ALA), eicosapentanoic acid (EPA) and docosahexanoic acid (DHA). ALA is termed an essential fat because it cannot be synthesized by the body and must be obtained from the diet. Rich sources of ALA are nuts and seeds and their oils. The other omega-3s, EPA and DHA, are both found in fatty fish and shellfish.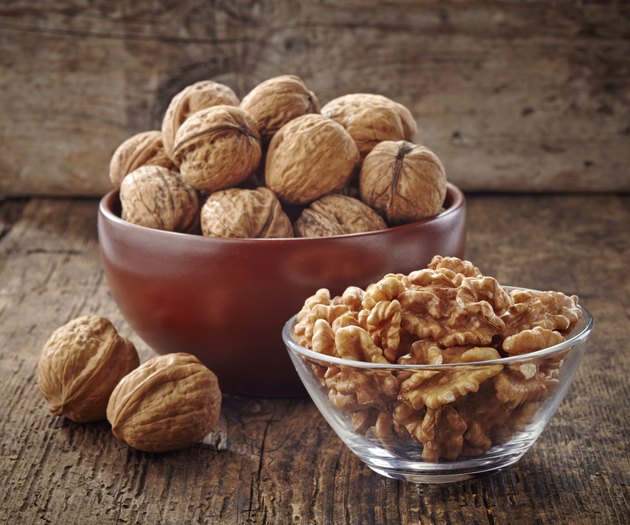 Omega-3 Basics
Dietary guidelines recommendations suggest a daily intake of 1.1 grams of ALA for women and 1.6 grams for men. Omega-3s should be incorporated into a healthy diet as they may help lower cardiovascular disease risk.
Walnuts Vs. Almonds
Per 1-ounce serving, walnuts contain about 13 grams of polyunsaturated fatty acids, and of those, 2.5 grams are omega-3s. Almonds contain just 3.5 grams of polyunsaturated fat per 1-ounce serving, and none is an omega-3 fatty acid. Therefore, between walnuts and almonds, walnuts are the better choice for obtaining omega-3s. Other sources of omega-3s include fatty fish, flaxseed, chia, pumpkin seeds, soybean and canola oils and omega-3-fortified eggs.