Urinary tract infections, or UTIs, are common -- especially among women. Most are caused by bacteria called E. coli. But some types of staph bacteria, primarily one known as Staphylococcus saprophyticus, can also cause a urinary infection. Fortunately, the same antibiotics successfully treat most UTIs regardless of the specific bacteria causing the infection. Your doctor will determine the best antibiotic to treat your UTI.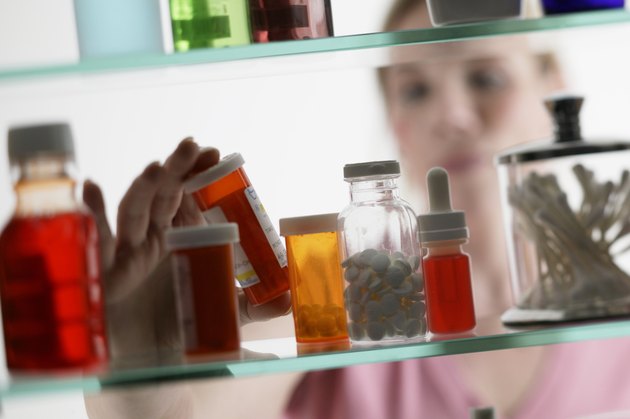 Antibiotics for Bladder Infections
If you have symptoms typical of a bladder infection -- such as burning when you urinate and needing to go frequently -- but are otherwise well, your doctor will likely prescribe a short course of an antibiotic that is effective for most bladder infections. Preferred antibiotics for treating most simple UTIs include nitrofurantoin (Macrodantin, Macrobid), fosfomycin (Monurol) and sulfamethoxazole/trimethoprim (Septra, Bactrim, SMZ-TMP), according to the Infectious Disease Society of America. Your doctor may prescribe another antibiotic -- such as ciprofloxacin (Cipro), amoxicillin clavulanate (Augmentin) or cefdinir (Omnicef) -- if one of the usual antibiotics is not a good option for you. These antibiotics are usually similarly effective and can successfully treat most UTIs, including those caused by E. coli and Staphylococcus saprophyticus.
Antibiotics for Kidney Infections
Some urinary tract infections spread upward from the bladder into the kidneys, which can potentially be very serious. Recommended antibiotic options if your doctor suspects a UTI involving your kidneys include ciprofloxacin, levofloxacin (Levaquin) and sulfamethoxazole/trimethoprim, which can all be taken by mouth. In some cases, other antibiotics may be given through your veins, such as ceftriaxone (Rocephin). Your doctor will send your urine for testing to determine the specific type of bacteria causing your infection and may recommend a change in your antibiotic once that test result is available.
Staph Aureus UTIs
While most staph urinary infections are due to Staphylococcus saprophyticus, another type called Staphylococcus aureus may rarely cause a UTI. This is most likely in people who have an anatomical abnormality of their urinary system or a medical condition requiring them to keep a catheter in their bladder. Urine testing will help your doctor choose the right antibiotic should you develop this unusual type of staph urinary infection.
Other Considerations
While there are standard, first-choice antibiotics that doctors use to treat most staph UTIs, urine testing may show that your infection is unlikely to respond to one of these drugs. In that circumstance, your doctor will switch you to another antibiotic to cure your infection. Your doctor will take other factors into consideration in choosing the best antibiotic for you as well, such as whether have any drug allergies or take other medicines that could interact with the antibiotic.