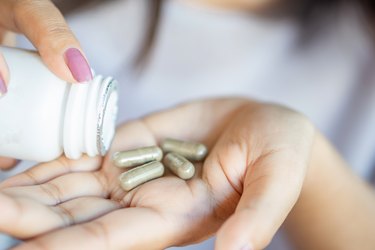 A group of 13 organic compounds make up two types of vitamins that your body needs for normal cell function, development and growth. Each of the vitamins has important roles, including providing energy, maintaining bones, healing wounds, chemical messaging and boosting your immune system.
Amount of Vitamins You Need
Essential vitamins cannot be synthesized by your body, so you need to eat a balanced diet that includes sources of vitamins in fruits, vegetables, beans, lentils, whole grains and dairy foods. Vitamin supplements and fortified foods may also help you get a sufficient amount of vitamins to prevent health problems, including heart disease, cancer and osteoporosis, according to MedlinePlus.
Dietary Guidelines for Americans lists recommended amounts of vitamins you need for optimal health. These nutritional goals depend on age and gender. The average amounts required for adults between the ages of 31 and 50 years are:
Vitamin A —

900 milligrams for men; 700 milligrams for women

Vitamin E —

15 milligrams

Vitamin D —

600 international units


Vitamin C —

90 milligrams for men; 75 milligrams for women

Thiamin (B1) —

1.2 milligrams for men; 1.1 milligrams for women

Riboflavin (B2) —

1.3 milligrams for men; 1.1 milligrams for women

Niacin (B3) —

16 milligrams for men; 14 milligrams for women

Pantothenic acid (B5) – 5 milligrams

Vitamin B6 —

1.3 milligrams

Biotin (B7) —

Folate (B9) —

400 micrograms

Vitamin B12 —

2.4 micrograms

Vitamin K —

120 micrograms for men; 90 micrograms for women
The above vitamins list is grouped into two types — water-soluble and fat-soluble vitamins.
Water-Soluble Vitamins
There are nine water-soluble vitamins that include the B vitamins and vitamin C. Water-soluble vitamins are packed into the watery portions of food and are not stored by your body after digestion. Excesses are eliminated in your urine, with the exception of vitamin B12, which can be stored in the liver, according to MedlinePlus.
When it comes to the uses of vitamins, the B group of water-soluble vitamins are the ones necessary to help free the energy from the food you eat to fuel your body and keep it functioning properly. A closer look at the group of water soluble B-complex vitamins and their functions shows just how important they are to your health:
Vitamin C is another water-soluble vitamin that your body needs, especially to support your immune system. One of its roles is to help make collagen, a fibrous protein in connective tissue that your body uses to maintain bone, cartilage and blood. Collagen helps to heal wounds, forms the base for teeth and bones and maintains blood vessel walls, says Harvard T.H. Chan.
The best food sources of vitamin C come from fruits and vegetables. Citrus fruits are highest in vitamin C but bell peppers, strawberries and tomatoes also contain vitamin C.
Warning
Although water-soluble vitamins should be replenished in your body every few days, be aware of the small risk from consuming too much from supplements. For example, very high doses of vitamin B6 over the recommended amount can damage nerves, causing numbness and muscle weakness, according to "Making Sense of Vitamins and Minerals," published by Harvard Health in 2019.
Too much niacin from supplements can result in an overdose with symptoms including skin flushing combined with dizziness, nausea and vomiting, diarrhea and gout.
Fat-Soluble Vitamins
There are four fat-soluble vitamins, which are vitamins A, D, E and K. These vitamins need to be escorted by proteins that act as carriers in order to be distributed throughout your body, according to the "Making Sense of Vitamins and Minerals" article. Excess amounts of fat-soluble vitamins are stored in your liver and fat tissue to be released as needed.
Some of the fat-soluble vitamins are the types of vitamins that help your immune system, which is needed to fight off invading bacteria and viruses. Fat-soluble vitamins keep your eyes, lungs, digestive tract, nervous system and bones healthy.
Taking a more detailed focus on the fat-soluble vitamins and their functions can give you an idea of how necessary they are to maintain your overall health.
Warning
Due to the ability of fat-soluble vitamins to be stored in your body, toxic levels can result from a build up. Although it's very rare to get too much of a vitamin just from food, taking too many supplements may result in negative effects to your health.