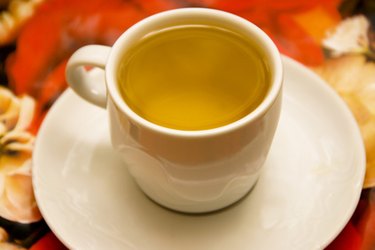 Conventional cough medicines can cause drowsiness, grogginess and may be too strong for some individuals. If you are looking for a natural alternative to treat your cough, ginger may be just the thing. According to "The Encyclopedia of Medicinal Plants," this powerful herb, which originated in India, is an effective remedy for infection and irritation. It is heating and cleansing and works primarily on the digestive and respiratory systems. Don't use ginger medicinally if you are pregnant, and talk to your doctor before using any herbal remedy.
Analgesic
Ginger is a natural analgesic—pain killer—that can soothe the scratchy pain and irritation of a sore throat. The tickle of inflammation is often what stimulates coughing. So chewing fresh ginger root or drinking ginger juice or tea may help suppress a cough by temporarily treating the irritation.
Respiratory Health
Ginger works on the respiratory system to cleanse and heal. Its pungent warming action helps eliminate mucus from the lungs that may be the cause of a cough. Drinking ginger tea or juice, or massaging the chest and back with ginger oil can all help relieve and treat a cough. Ginger is also a natural muscle relaxer that can relieve spasms associated with intense coughing.
Bath
Macerate 5 inches of fresh ginger root and place it in a small muslin bag. Tie the top of the bag closed and attach it to the faucet of a bathtub while filling the bath with hot water. Once the tub is full, drop the bag into the water and let it sit for five to 10 minutes. Take a bath and inhale the vapors of the water deeply. The vapors and ginger juice in the bathtub will work together to soothe inflammation, remove mucus from your lungs and relieve coughing.
Infusion
Drink a ginger infusion to soothe your throat and lung tissues, support your immune system and remove mucus. Simmer two tablespoons of grated fresh ginger root in six cups of water for up to 10 minutes or mix half a teaspoon of dry ginger powder into one cup of hot water. Add honey and lemon if desired. Drink the infusion several times a day until your symptoms resolve.
Massage Oil
Ginger essential oil has the concentrated properties of fresh or dry ginger. To make your own ginger massage oil, mix 20 drops of ginger essential oil with four ounces of a neutral-smelling carrier oil—castor oil will help purge mucus from your body. Shake or stir your oil to blend it. Massage a teaspoon of oil into your chest and back for relief of cough symptoms. Do not use castor oil or ginger oil if you are pregnant. Ginger essential oil may be irritating for sensitive skin, so test it on a small patch of skin—if there is no reaction within 24 hours, it should be safe to apply the oil to a larger area.