While most of your fluids should come from water, adding aloe vera and honey to your meal plan won't break your diet. Aloe and honey juice is lower in calories and sugar than many other juices, and it has some vitamins and phytonutrients that benefit your health.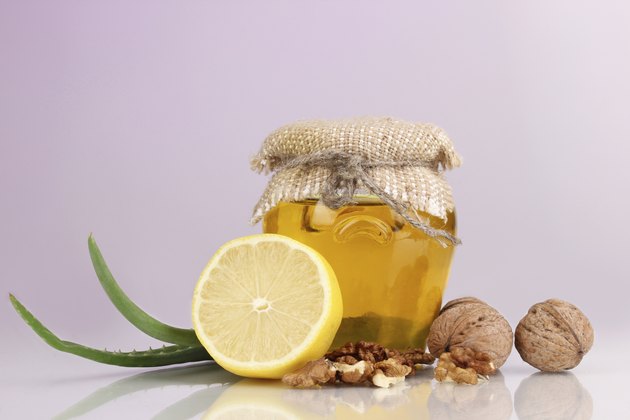 Low in Calories
Aloe juice with honey is low in calories -- each 16-ounce bottle has 120 calories. At just 60 calories per cup, that makes it a lower-cal alternative to other juices. Orange and apple juices, for example, have 112 and 114 calories per serving, respectively. However, aloe and honey is slightly higher in calories than plain unsweetened coconut water, which has just 46 calories.
Significant Vitamin C
Each serving of aloe and honey comes packed with vitamin C, an antioxidant and essential nutrient. In addition to its ability to fight free radicals -- compounds linked to chronic disease and aging -- vitamin C promotes collagen production, which strengthens tissues including your cartilage and skin. Vitamin C also activates enzymes your cells need to function, which supports your body's metabolism. Each 8-ounce serving of aloe with honey offers 30 percent of the daily value of vitamin C, so a standard 16-ounce bottle has more than half your daily needs.
Other Benefits of Aloe
Introducing aloe to your diet might also have other health benefits. Aloe contains barbaloin, a phytonutrient that might offer antioxidant benefits. Aloe might also help regulate blood sugar levels, which makes it potentially beneficial for those with diabetes, according to the book "Herbal Medicine: Biomolecular and Clinical Aspects." However, more comprehensive and long-term research is needed to know how well it works.
Cautions and Considerations
Despite its health benefits, aloe with honey also has some disadvantages. While honey is a "natural" sweetener, it still counts toward your daily added sugar for the day. Each 8-ounce serving of aloe with honey has 15 grams of sugar, which means you'll take in 30 grams of sugar if you drink a whole 16-ounce bottle. That exceeds the daily "added sugar" limit for women, which is 24 grams, and takes up most of the 36-gram daily limit for men. Limit your portion to half a 16-ounce bottle, and avoid other sources of added sugar in your diet, like processed foods and sweets.