Eye exercises for esotropia are designed to strengthen and straighten out your eye or eyes that have been effected by esotropia. Esotropia, colloquially referred to as a lazy eye or crossed eye, causes your eye to squint in such a manner that it is turned inward or down. While eye exercises can help patients suffering with esotropia, glasses can also help to correct the problem or alleviate the symptoms.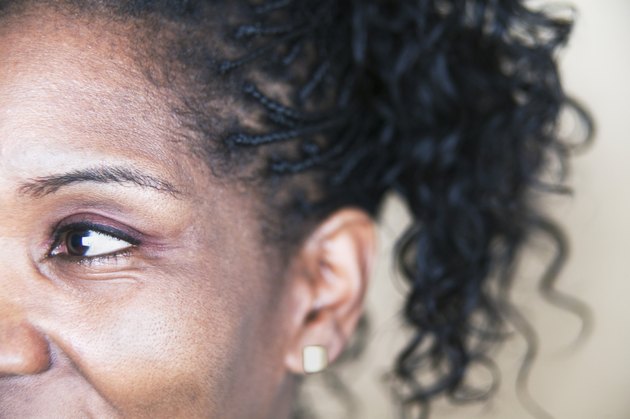 Pencil Push-Up
This eye exercise is designed to strengthen your eye muscle and improve your lazy eye's ability to converge properly. Start by taking a regular pencil and holding it up in front of your face. Focus with both of your eyes on a small piece of text or letter that is printed on the side of the pencil. From here, start moving the pencil closer and closer to the bridge of your nose. According to the Mayo Clinic, the exercise must be performed five days a week for 15 minutes a day. If you are doing the exercise correctly, you will perform around 100 repetitions per day of the exercise.
Eye Roll Exercise
This eye roll exercise is designed to strengthen your eye muscles as well as help relax your eyes. Start by sitting down in a chair with your back straight and your feet firmly touching the ground. Close both of your eyes, placing your fingertips on the tops of both of your eyelids. Make sure that your are pressing on your eyelids with only three fingers per hand. From here, perform one full eye roll in a clockwise direction. Roll your eyes in the opposite direction one time. Repeat this exercise back and forth until you have perform the exercise 50 times. Perform three to five days a week, depending on your eye strength.
Computer Vision Therapy
Computer vision therapy exercises are designed to help reduce the effect of esotropia on your vision. Sit in front of your computer with your back straight and eyes level with the computer screen. Using any basic vision program, such as Home Vision Therapy, perform computer-based eye exercises for an hour or more a day. Many of these computer exercises directly target troubles with convergence and work on strengthening your eye muscles to help eliminate these problems. Exercises involve small dots on your screen converging at the center of the screen. Both of your eyes must follow the separate dots until the converge in the middle of the screen.
Is This an Emergency?
If you are experiencing serious medical symptoms, seek emergency treatment immediately.