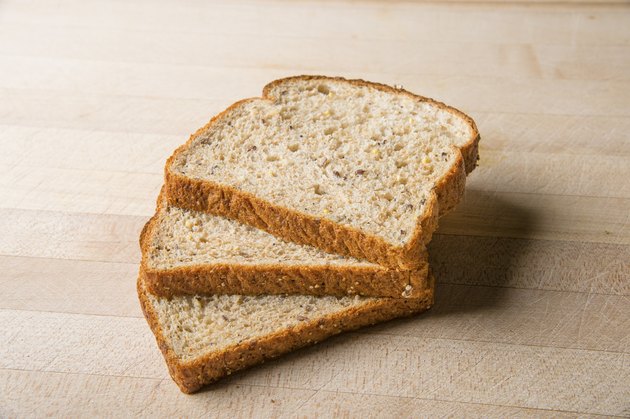 Going on a low-carbohydrate diet doesn't have to mean missing out on the cardiovascular, digestive and weight-management benefits of whole grains; plenty of bread brands have developed low-carb, whole-grain options. One regular-sized slice of whole-grain bread, on average, provides 69 calories and 11 grams of carbohydrates, and a larger slice contains 109 calories and 18 grams of carbohydrates. Low-carb breads, on the other hand, are often half the calories and grams of carbs per slice.
Sara Lee
Sara Lee's Fresh Bakery division offers sandwich bread, buns, rolls and breakfast breads. While the nutritional content of each item varies, there are a few options that low-carbohydrate lovers will enjoy. Sara Lee has a couple of whole-grain "45 Calories & Delightful" bread options -- Healthy Multi-Grain and 100% Whole Wheat Bread. Both types offer 9 grams of carbohydrate per slice, 2.5 grams of which are dietary fiber and 1 gram of which is sugar. This brand can be found in supermarkets all over the United States, so finding the option you want should be a piece of cake.
Natural Ovens Bakery
Natural Ovens Bakery is yet another brand that offers a whole-grain, low-carb bread. The company's line of Weight Sense Breads, noted to be more thinly sliced than its other breads, includes the whole-grain Right Wheat Bread option. With only 50 calories and 8.5 grams of carbohydrates, including 2.5 grams of fiber and just 1 gram of sugar per slice, this measures up to the best of the low-carb breads. The unique thing about this brand is that it only has one physical store in Manitowoc County in Wisconsin, so its business is largely operated online and ships all over the United States.
Healthy Life Bread
Healthy Life Bread claims to be a "Dieter's Dream" with its Reduced Calorie High Fiber options. The Healthy Life Original 100% Whole Wheat bread does appear to live up to its name, with only 35 calories per slice and 8 grams of carbohydrates -- 3 grams of which is fiber, and 1 gram of which is sugar. This company also offers a 100% Whole Grain and Flaxseed with Omega-3 Bread, as well as a Sugar Free 100% Whole Wheat Bread product with similarly low carbs to appeal to an even wider customer base.
100% Whole-Wheat Weight Watchers Bread
The Weight Watchers brand is known for its weight-loss smarts, with its longstanding point system and a variety of low-calorie food products available online and in grocery stores. Among those items are the 100% Whole Wheat and Multi-Grain breads -- each of which advertises a PointsPlus value of 2 for 2 slices for those who are following the system. Both types of bread are 100% whole grain and have at least 2 grams of fiber. The Multi-Grain option provides 50 calories and 9 grams of carbohydrates per slice and contains an artificial sweetener, whereas the 100% Whole Wheat type offers 40 calories and 8 grams of carbohydrates per slice, including 1 gram of added sugar.