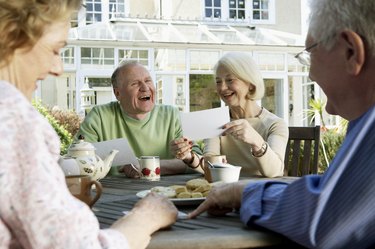 Nutritional drinks may help fill nutrition gaps in your diet. Seniors require a nutrient-dense diet -- one rich in protein, vitamins D, B12 and calcium. For those unable to meet their nutrient needs, dietary supplements, in the form of fortified beverages are an option. These protein-rich drinks come in many flavors and varieties to suit specific health needs; however, real, whole foods should always be the first option.
Carnation Instant Breakfast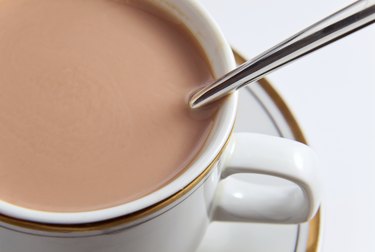 Nestlé's Carnation Instant Breakfast beverage is not just for children. Anyone can benefit from this tasty, milk-based drink. It comes in powdered form or as a ready-to-drink bottled beverage. If an in-between meal "snack" is needed and not a full meal replacement, try the protein-rich sugar-free version. It comes in rich milk chocolate flavor and one bottle, or 325 milliliters, provides 150 calories, 13 grams of protein, 5 grams of fat, 1.5 grams of saturated fat and 16 grams of carbohydrates. This beverage is sweetened with non-nutritive sweeteners in place of sugar. It is vitamin and mineral-fortified.
Each serving meets 20 to 25 percent of the recommended Daily Value or DV for 21 vitamins and minerals. According to Registered Dietitian Kathleen Goodwin, Carnation Instant Breakfast is one of the best tasting nutritional drinks available, and, if you go with the powdered option, much less expensive than many other brands.
Ensure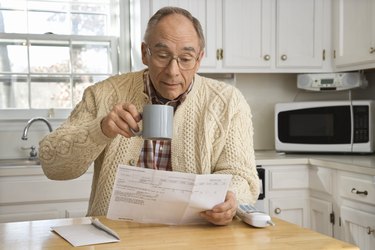 Ensure is manufactured by Abbott Laboratories. The Ensure 8 fluid ounce bottled shakes come in many varieties, such as bone health, which is higher in calcium. It offers a balance of carbohydrates, protein and fat for optimum satiety and may be used as a light meal or larger snack replacement. The "muscle health" drink is higher in protein and one bottle of the creamy milk chocolate offers 250 calories, 13 grams of protein, 8 grams of fat, 1 gram of saturated fat and 32 grams of carbohydrates. It is fortified with 24 vitamins and minerals and one drink provides, on average, 25 percent of the DV for these nutrients.
Boost Plus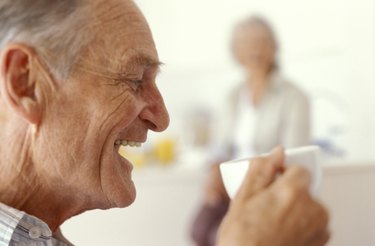 Boost Plus, also manufactured by Nestlé, comes in several flavors, including chocolate, vanilla and strawberry and is higher in calories; it may be appropriate as a meal replacement or between meals for a senior having trouble maintaining his weight. One bottle or 8 fluid ounce provides 360 calories, 14 grams of protein, 14 grams of fat, 1.5 grams of saturated fat, and 45 grams of carbohydrates.
This beverage is fortified with 25 vitamins and minerals and, on average, one serving meets 25 percent of the DV for most of the nutrients. One serving meets 100 percent of the DV for vitamin C. According to the National Institutes of Health Office of Dietary Supplements, vitamin C promotes immune system health as well as wound healing.