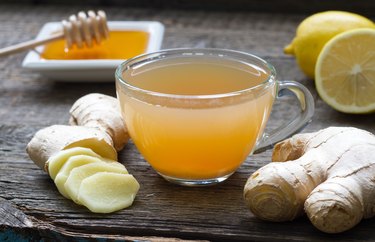 Lemongrass and ginger tea is an aromatic, warming, citrus-flavored beverage. But these herbs aren't just tasty; they also offer a range of proven health benefits, as well as an intriguing array of possible benefits that are still under investigation.
Tip
Potential benefits of lemongrass and ginger tea include treating nausea, anxiety, inflammation and even some cancers. Both herbs also show antimicrobial activity. However, most of the research has been conducted on concentrated supplements or essential oils — so tea won't necessarily have the same effect.
The Benefits of Ginger
Perhaps the best-known — and best-proven — uses of ginger is to reduce nausea and vomiting. It's very popular as a remedy for motion sickness, but the vast bulk of studies on its efficacy relate to pregnancy- or chemotherapy-induced nausea and vomiting.
An excellent summary of this research is published in a 2016 issue of Integrative Medicine Insights, where researchers note that many studies show positive results for reducing nausea and vomiting, with a few returning unremarkable results.
Another useful summary appears in the June 2019 issue of the journal Foods. High points include ginger's antioxidant and anti-inflammatory activity, both of which can help prevent or ease a number of chronic diseases. Greater levels of antioxidant activity were attributed to dried ginger and lesser levels to fresh ginger. Tea isn't mentioned, but the ginger included in tea is, by necessity, dried.
Ginger has also been shown to inhibit the growth of certain bacteria, fungi and viruses and, perhaps most notably, has shown promising results in fighting several types of cancer. Other promising areas of research include using ginger to treat diabetes, obesity, heart disease, respiratory disorders and neurodegenerative diseases.
What About Lemongrass?
Lemongrass also shows noteworthy benefits in the fight against cancer. In the 2019 issue of Integrative Cancer Therapies, researchers note that lemongrass demonstrates potent activity against colon cancer. And an analysis published in the March 2018 issue of International Journal of Oncology showed that lemongrass essential oil and citral (the major active constituent in lemongrass) help suppress small-cell lung cancer.
Lemongrass also shows promising effects against other types of cancer; for example, a December 2017 article in Oncotarget notes that both lemongrass and hot water white tea extracts show potent anti-cancers against lymphoma and leukemia models. Although this study wasn't conducted on human subjects, it's still worthy of note.
Many of the clinical trials of lemongrass on human subjects have involved lemongrass essential oil. But a data analysis published in the January-March 2011 issue of the Journal of Advanced Pharmaceutical Technology and Research summarizes many traditional folk uses around the world of various parts of this herb.
In particular, hot water extracts of lemongrass — perhaps a bit closer to what you'd get from a cup of tea, although not necessarily identical — have been taken for diuretic and anti-inflammatory effects, to soothe the central nervous system, and as a digestive aid.
Side Effects to Watch For
Although lemongrass and ginger recipes and tea offer many potential benefits, there are a few drawbacks to be aware of. As the University of Rochester Medical Center explains, ginger can cause heartburn and bloating. Some medical experts also think it might change the effects of blood thinners or anticoagulants.
This is a great example of why if you take prescription medications, it's always best to talk to your doctor before you add new supplements to your routine. Women who are pregnant or breastfeeding should also talk to a healthcare provider before taking new herbal medicines.
There's less data on the side effects of drinking lemongrass tea. Most of the published research on adverse effects relates to lemongrass oil being applied to the skin. However, that simply increases the urgency of discussing any new supplements with your doctor.
Concerned About COVID-19?
Read more stories to help you navigate the novel coronavirus pandemic:
Is this an emergency? If you are experiencing serious medical symptoms, please see the National Library of Medicine's list of signs you need emergency medical attention or call 911.