Most adults function well on around seven to eight hours of sleep per night. On evenings when sleep eludes you, it is best to abandon your bed, flip on the television or pick up a book, suggests the National Institute of Neurological Disorders and Stroke. Additionally, you might find a cup of tea soothing, although some teas can interfere with sleep. Ginger tea, however, is an ideal bedtime brew.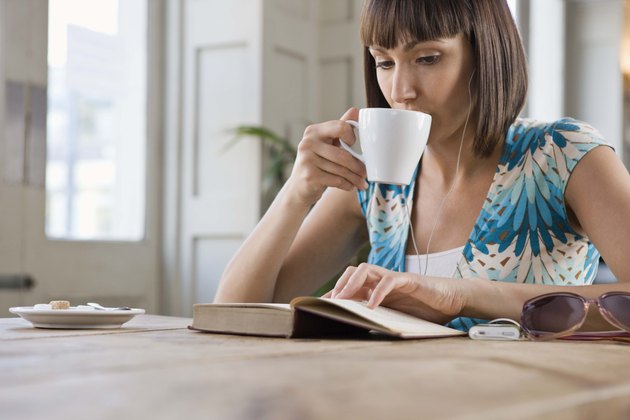 Types
Ginger tea is an herbal tea, or a beverage made from boiled or steeped herbs. Unlike black, green and oolong teas, herbal teas do not come from the camellia Sinensis plant. For this reason, some people do not consider ginger and other herbal teas "true" teas. In fact, some people refer to herbal beverages as "infusions" rather than teas.
Caffeine Content
Since ginger tea comes from the ginger root, it is naturally caffeine free. In comparison, teas made from the Camellia sinensis plant may contain up to 4 percent caffeine per cup, which might increase alertness and ultimately affect your sleep. Despite their caffeine content, caffeinated teas are still considered safe. The American Medical Association reports tea drinkers typically are not at risk for health problems relative to their caffeine consumption, assuming other lifestyle habits are also moderate. If you wish to consume caffeinated teas, do so during the day and reserve ginger tea for nighttime sipping.
Side Effects
Although ginger tea might cause some side effects with heavy consumption, such as gas or bloating, it is generally safe to sip up to four cups of fresh ginger tea and possibly more if you use prepared tea bags. Since ready-made tea bags are less potent, dosages vary based on the brand and your preparation methods. Talk to an herbalist for safe dosing instructions. In comparison, caffeinated tea drinkers risk developing dangerous side effects with excessive consumption. More than five cups daily can cause headaches, vomiting, diarrhea, confusion, racing heartbeat, heartburn and sleeplessness .
Benefits
Ginger tea is not only an appropriate bedtime beverage, it is also an herbal remedy and health tonic. Some of the benefits ginger offers include relief of nausea or stomach discomfort and reduced joint and muscle pain. Some users find ginger is an effective treatment for common cold and flu symptoms. Although research is pending, the University of Maryland Medical Center reports that ginger may lower cholesterol levels and prevent blood from clotting. Additionally, laboratory studies reveal that active components in ginger may have anticancer activity.