It's second nature to boil a pot of white rice when you cook Asian-inspired food, but this simple grain is also a valuable addition to stir-fry meals that you can enjoy on its own as a comfort food. If you're concerned about consuming too much sugar in your diet, you don't have to worry about white rice, as it has only trace amounts of sugar.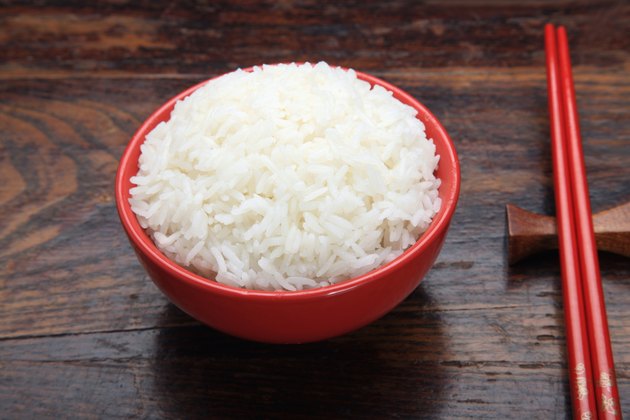 Won't Affect Your Sweet Tooth
The exact amount of sugar in your cooked white rice depends on the variety. In general, all white rice has very little sugar. The U.S. Department of Agriculture nutrition database notes that white, glutinous rice contains just 0.05 grams of sugar per 100 grams of rice. Regular white, long-grain rice has the same amount. This amount of sugar translates to only 0.09 grams of sugar per cup of glutinous rice and 0.08 grams of sugar per cup of long-grain rice.
Blood Sugar Response
Even though white rice contains a very low amount of sugar, as a carbohydrate, it causes a spike in your blood sugar. The Harvard School of Public Health notes that when you consume carbs such as rice, your body's digestive system turns the carbs into sugar. As you experience higher blood sugar, your pancreas increases its production of insulin as a regulation method. People with diabetes don't have to abstain from carbs, notes the Cleveland Clinic, but they should closely monitor their carb intake.