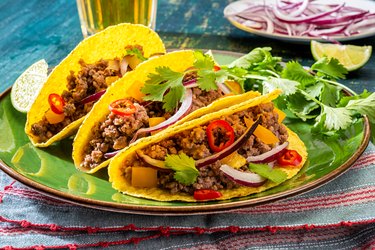 Taco Bell is a fast-food chain serving a menu of low-priced Mexican-influenced items. It is possible to make good food choices there as recent menu changes include more nutritious meals that are low in fat and calories.
Learn all about Taco Bell nutrition for some of their meals, hot sauces and more.
Taco Bell Calories and Nutrition: Healthier Choices
Anyone can view Taco Bell's nutritional information on their official website. Nutritional information is always available in all Taco Bell restaurants as well. All of Taco Bell's menu items are high in sodium, but several choices are low in calories.
170 calories
9 g fat
310 mg sodium
13 g carbs
8 g protein
Carbs in Taco Bell Meals
If you're trying to cut carbs, know that the tacos at Taco Bell are a good choice.
350 calories
9 g fat
1,000 mg sodium
54 g carbs
13 g protein
Taco Bell Chalupa Calories
​Taco Bell Chalupa Supreme​
Nearly half of the calories in a Taco Bell Chalupa come from fat. Here's the nutritional breakdown for the Chicken Chalupa Supreme:
350 calories
18 g fat
560 mg sodium
33 g carbs
13 g protein
Tip
Taco Bell's Chalupa Supremes come in beef, steak and chicken and the chicken and steak seem to be the healthier options of the three.
330 calories
15 g fat
430 mg sodium
39 g carbs
10 g protein
Meals to Avoid at Taco Bell
740 calories
38 g fat
1,050 mg sodium
81 g carbs
16 g protein
650 calories
33 g fat
1,390 mg sodium
67 g carbs
22 g protein
Taco Bell offers a variety of sauces and condiments, many complimentary. The "hot" sauce provides a little more kick than the "mild," but isn't nearly as spicy as their "fire" sauce.
There are zero calories in the Taco Bell hot sauce packets, but they do contain 30 to 55 milligrams of sodium.
Taco Bell Nutrition Calculator