When you travel to a higher altitude environment, your body must make certain physiological adaptations in order to handle the significant decrease in oxygen. Your heart is one such organ that makes immediate changes, as it works to maintain delivery of the amount of oxygen needed by your tissues and organs.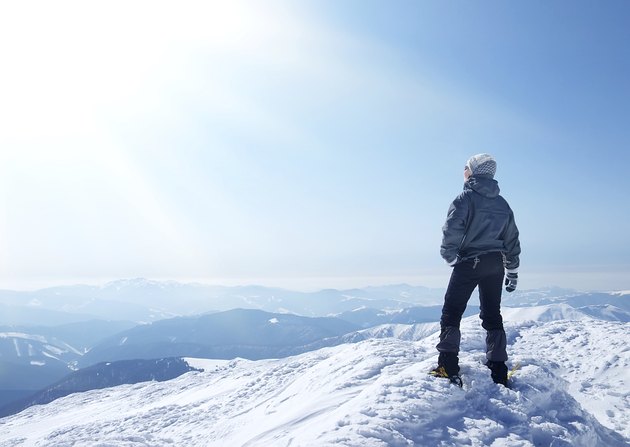 Oxygen
Oxygen is necessary for all cellular life in our body. Your heart's sole function is to provide your organs and tissues with oxygenated blood and to return deoxygenated blood to your lungs so that it can become oxygenated again. How often it needs to beat is partly dependent upon the density of oxygen present in the surrounding air.
High Altitude Environment
A high altitude environment, which is considered a location that's greater than 2000 meters, possesses less oxygen in the air. The higher in altitude you get, the less oxygen that is present. The air is thinner, so you are unable to pull the same amount of oxygen in your lungs with each breath. As a result, heart rate increases to deliver oxygen to cells in your body more efficiently.
Short Term Heart Rate at High Altitudes
When you move to high altitudes, your heart rate immediately speeds up when you're exercising and at rest. At 2,000 meters, your heart rate will increase 10% over regular sea level value. At 4,500 meters, your heart rate increases 50% higher than its regular sea level rate.
Long Term Acclimatization
When you travel to a higher altitudes for a long period, your body acclimatizes and your resting heart rate decreases and returns back to the same heart rate values that you had at the altitude you traveled from. It takes about two weeks to complete the acclimatization process. Because of this process, many athletes will arrive at a location a few days prior to their competition or event in order to perform at their regular abilities. If moving after a long period at high altitude to a lower altitude, there is a typical slight decrease in heart rate as the heart has become more efficient, but the acclimatization period is not nearly as extensive.
Warnings
Sickness from not receiving enough oxygen is common at high altitudes. Symptoms typically show up within 48 hours of arriving at the high altitude environment. High-altitude sickness can cause headaches, nausea, sleep problems and swelling. In some situations, altitude sickness can be serious -- fluid can accumulate in your brain or lungs. Symptoms of these conditions include shortness of breath, hallucinating, pink phlegm, rapid heartbeat and confusion. Seek immediate medical attention if you have these symptoms.