Low-density lipoprotein, or LDL, cholesterol is unhealthy cholesterol because high levels of in your blood increase your risk for heart disease. One-third of American adults have high LDL levels, according to the Centers for Disease Control and Prevention, but a healthy diet can help prevent or lower high LDL cholesterol. The foods that raise LDL cholesterol tend to be high in saturated fat, trans fat or dietary cholesterol.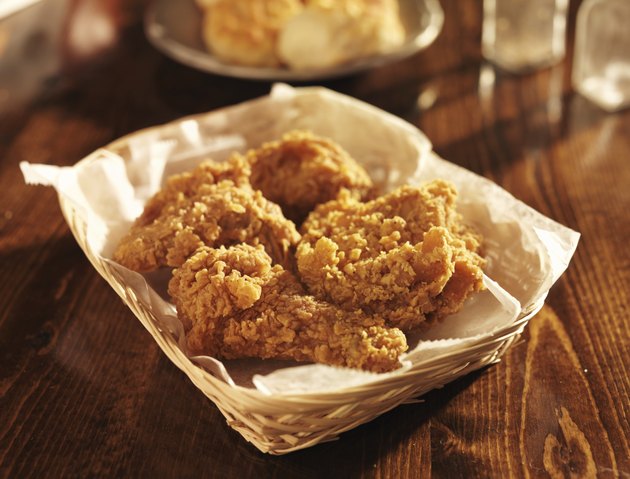 Fatty Meat and Poultry with Skin
Poultry with the skin and fatty meats, such as fatty steaks, bacon, beef and pork sausage, pepperoni and regular ground beef, can raise your LDL levels because they are high in saturated fat. They also contain dietary cholesterol, which is a waxy substance that can raise your blood LDL cholesterol levels. Reduce consumption of saturated fat by choosing lean beef and skinless chicken and turkey breast. To further protect your heart, occasionally substitute fish and plant-based proteins, such as soy and beans, for meat and poultry.
Full-Fat Dairy Products
Most of the fat in milk is saturated fat, and full-fat cheese, pizza and dairy desserts, such as ice cream, are among the top sources of saturated fat in the typical American diet. They also contain cholesterol, which can raise your LDL cholesterol levels. Milk, cheese and yogurt are sources of essential nutrients, such as calcium and protein, and they can be part of a heart-healthy diet if you choose low-fat or fat-free varieties.
Butter and Lard
Solid animal fats, such as butter and lard, can contribute to higher blood LDL cholesterol levels because they contain saturated fats and cholesterol. To lower your LDL levels, the 2010 Dietary Guidelines suggest substituting healthier sources of fat for butter and lard in your diet when you make foods at home. Spread peanut butter instead of butter on your bread, and cook foods in a small amount of olive oil instead of butter on the stove. You can substitute vegetable oil for butter when making baked goods.
Fried and Processed Foods
Artificial trans fats may be the least healthy kinds of fat because they not only raise LDL cholesterol, but also lower levels of healthy HDL cholesterol. Sources include some fried foods, such as French fries, donuts and onion rings, and partially hydrogenated vegetable oil-containing snack foods, such as crackers and cookies. Natural trans fats are in beef and dairy products, but they may not have the same negative effects as artificial trans fats. To limit your consumption of artificial trans fats, avoid fried foods and choose products that are trans-fat free and contain no partially hydrogenated oils.
Egg Yolks
Eggs and egg dishes contribute one-quarter of the total cholesterol in the average American diet. Dietary cholesterol is not an essential nutrient, and it can increase LDL cholesterol levels in some people, according to the 2010 Dietary Guidelines. A diet low in saturated fat can help mitigate these effects. To avoid cholesterol from eggs, eat only the egg white, which is fat-free and cholesterol-free, or use cholesterol-free liquid egg substitutes instead.