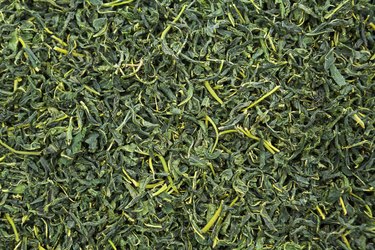 Mulberry, a plant that grows in China, Korea and Japan, has been used in traditional Chinese medicine, in particular as an herbal tea. Mulberry leaf tea's health benefits are attributed to its naturally occurring compound, 1-deoxynojirimycin, or DNJ. DNJ is responsible for mulberry's antidiabetic effects, which have been studied extensively. Mulberry leaf tea also has powerful antioxidant properties and has been found to lower cholesterol and triglycerides and reduce inflammation.
Contains Minerals and Antioxidants
According to an article published in the "International Journal of Food Sciences and Nutrition" in 2006, mulberry leaves contain calcium, iron and zinc. Mulberry also contains the antioxidants ascorbic acid and beta carotene. Antioxidants inhibit cellular damage caused by free radicals, which get created during food digestion and smoke and radiation exposure. Regularly consuming foods and drinks rich in beta carotene may reduce your risk of cancer, according to PubMed Health.
Lowers Blood Glucose Levels
Type 2 diabetes is characterized by increased blood glucose levels. According to a study published in "The American Journal of Chinese Medicine" in 2012, mulberry lowers blood glucose due to its gallic acid content. In a study published in "Diabetes Care" in 2007, this effect was shown in Type 2 diabetes patients. In the study, everyone in a diabetes group and a healthy control group received a sucrose drink, but some also got mulberry extract, while the others got a placebo. Blood glucose was tested beforehand and two, three and four hours after sucrose consumption. The results showed that taking mulberry significantly curbed glucose spikes in the first two hours after consumption. The scientists concluded that mulberry could be useful both in the treatment of diabetes and in its prevention.
Reduces Bad Cholesterol
In a study published in 2013 in "BioMed Research International," triglyceride and LDL cholesterol levels were lowered significantly in patients given 280 grams of mulberry leaf powder three times daily for three months. A study published in 2010 in the "Journal of Clinical Biochemistry and Nutrition" found similar results after giving participants 12 milligrams of mulberry leaf extract three times daily for three months. These studies suggest that regular heavy doses of this herb may be required to see significant results in lowering cholesterol and triglycerides. However, sipping some mulberry leaf tea regularly may help prevent high cholesterol.
Has Anti-Inflammatory Effects
According to a study published in 2013 in the "Journal of Functional Foods," mulberry leaf has been traditionally used to treat inflammation caused by chronic diseases, and the results of the study verify its anti-inflammatory effects. In vitro, scientists found mulberry leaf inhibits inflammatory agents in the body, cutting off the body's inflammatory response. This effect was shown in rats in a study published in 2010 in "Phytotherapy Research." Rats with induced paw edema were introduced to mulberry, which inhibited the formation of inflamed paw tissue. These studies suggest mulberry leaf tea could be used to help ease pain by reducing inflammation.
Is this an emergency? If you are experiencing serious medical symptoms, please see the National Library of Medicine's list of signs you need emergency medical attention or call 911.