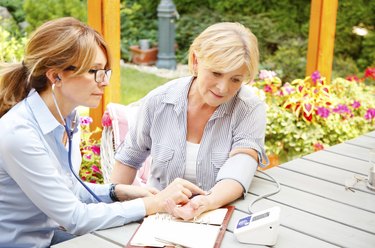 It's undeniably tempting—the idea that by taking a daily pill, you could drop those last five or 10 pounds. Diet pills prey on that temptation, promising rapid weight loss without diet or exercise. However, the way they achieve their results are usually unhealthy and unsustainable.
Function
Diet pills achieve their effects in several ways. Some block or decrease the amount of fat you absorb from the food you eat—these include drugs such as Alli, chitosan and guar gum. Others decrease your appetite, such as ephedra, hoodia and country mallow. A third type increases the amount of calories you burn, including bitter orange, chromium and green tea extract. Many of these are likely unsafe; ephedra and country mallow have already been banned by the FDA.
Physical Effects
According to Dr. J. Douglas Bremner in "Before You Take That Pill: Why the Drug Industry May Be Bad for Your Health," long-term use of diet pills can have serious consequences. Bremner cites a Mayo Clinic doctor, Heidi Connolly, who studied diet pills and their adverse effects. Connolly noted that taking diet pills makes you six times more likely to get primary pulmonary hypertension, a disease that increases pressure on the arteries in your lungs. It results in breathing problems, often followed by the need for a lung transplant. Specifically, Bremner notes that sibutramine, also called Meridia, causes palpitations, stroke and increased blood pressure. Amphetamine-like drugs such as diethylpropion and benzphetamine have similar effects.
Side Effects
Some diet pills have unfortunate side effects. Orlistat, the fat-blocking drug in some types of diet pills, keeps you from digesting all the fat in your food. As your body rids itself of that fat, it's likely you'll experience diarrhea—potentially uncontrollable, depending on how much fat you ingest. "Redbook" magazine spoke to Dr. Caroline Cederquist of the American Society of Bariatric Physicians, who confirmed these effects and noted that people who don't absorb enough fat can become deficient in vitamins A and D.
FDA Consumer Alerts
In 2009, the FDA expanded its list of diet pill ingredients that are likely to be harmful. In addition to citing brand names to avoid, the FDA also listed the pills' harmful ingredients, many of which are undeclared. Among other undeclared substances, the FDA found fenproporex, a pharmaceutical that can cause heart disorder, phenytoin, an anti-seizure medicine, and phenolphthalein, a chemical solution that likely causes cancer and is not approved for use in the United States.
Warning
Always consult your doctor before taking any diet medication. If your doctor prescribes a weight-loss medication, monitor your health closely. If you have trouble breathing or experience an irregular heartbeat, notify your doctor immediately. Ask him about your vitamin intake — to avoid becoming deficient, you may need to alter your diet to include more nutrient-rich foods or take a daily vitamin supplement.