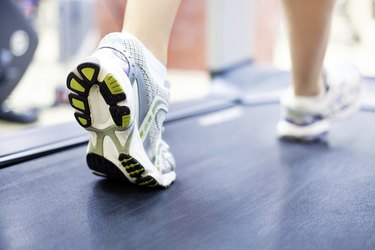 Walking into a department store or sporting goods retailer to buy a pair of athletic shoes can quickly turn into an overwhelming experience. There are many different types of shoes for all sorts of activities. It is easy to find shoes for runners, walkers, rock climbers and basketball players. Usually the shoes are clearly labeled in the stores according to their purpose. If you have a little background knowledge, shoes for gym training are also easy to find, even if they are not clearly labeled as "gym shoes."
Know Your Needs
Before you choose a shoe for gym training, it is important to think about what you plan to do at the gym. Common gym activities include weightlifting, exercising on various cardiovascular training machines, stretching and participating in a variety of group fitness classes. Within those activities, you may have particular favorites that are important to plan for. Perhaps you spend most of your time jogging on the treadmill, lifting moderately heavy weights, going to an indoor cycle class or doing agility drills with a personal trainer. If you run or jog regularly at the gym, you may wish to purchase a durable pair of running shoes. If you spend most of your time in indoor cycle class, you may want to buy specialized shoes. If you do a bit of everything, a cross trainer is the perfect shoe for you.
Types of Athletic Shoes
There are several types of athletic shoes that are good for gym training. Court shoes are made to provide a great deal of lateral and mid-foot support, durability and traction on court surfaces, which are important for regular basketball, racquetball and tennis players. Running shoes are specifically designed for frequent straight running, such as on a treadmill, but are not designed for the lateral movements performed in court sports. Walking shoes are designed for a smooth heel-to-toe motion, but should not be used for running or court sports. If you engage in these activities on a regular basis, it is a good idea to invest in shoes specifically designed for them. If you are looking for a shoe that is versatile and performs well in a variety of gym activities, cross trainers are the best choice. They offer basic cushioning, durability and stability for many activities.
Features of Cross Trainers
Cross-trainers are an economical choice for gym-goers who are looking for a shoe that performs well in many gym activities. The soles of cross-trainers are stable and have good enough traction to provide moderate support for lateral, or side-to-side, movements. The soles are also thick and durable enough to perform well on hard gym floors, court surfaces and even asphalt. Cross-trainers also offer moderate cushioning throughout. This cushioning is usually dense, which gives the shoes a feeling of stability. Most are made with leather or synthetic uppers, which provide some ankle support, while others use a more breathable mesh material to dissipate heat.
Getting the Right Fit
When buying shoes for gym training, it is very important to get the right fit. Getting the right fit will prevent blisters, foot pain and general discomfort. Even if you choose to buy your shoes online, going to a store and trying them on beforehand is worthwhile. When shopping for gym shoes, it is best to try them on at the end of the day or after a typical workout. This way, your feet will be at their largest and the fit will be similar to the way they will fit at the gym. Try and wear the same types of socks that you usually wear at the gym. Thick socks can make a big difference in how your shoes feel on your feet. If possible, have both feet measured and try on the size suitable for your largest foot. When the shoe is on, you should be able to freely move your toes and they should feel comfortable. Your heel should not slip as you walk. Check to make sure the shoes are laced the way you wear them. If they are laced a different way, take the time to re-lace them, as it can impact the distribution of pressure on your foot.
Where to Buy Gym Shoes
Many stores sell shoes for gym training. Stores like the Foot Locker and Ladies' Foot Locker specialize in selling a wide selection of athletic shoes and some athletic clothing. Other retailers like Dick's Sporting Goods, The Sports Authority and Play It Again Sports also sell a large selection of athletic shoes within a larger range of athletic gear and equipment. You can also look at specialty stores, like Road Runner's Sports, if you are looking for a shoe for a particular sport or activity. Lastly, there are many places online to purchase shoes for gym training. Zappos.com, Eastbay.com, Payless.com and even Amazon.com sell athletic shoes.