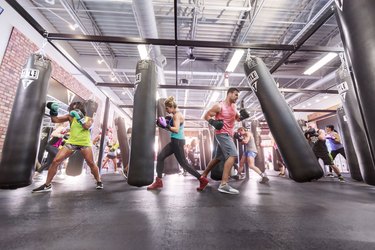 You probably associate boxing with HBO fight nights, black eyes and intense corner conversations — but the latest boutique boxing studios are different. These workout classes offer an intense full-body workout for people of all shapes, sizes and ability levels — no hand-to-hand fighting required.
What Is a Fitness Boxing Class?
Fitness boxing classes are a form of high-intensity interval training (HIIT), because they alternate bursts of boxing moves (jab, cross, hook, uppercut) with low-intensity segments of either complete rest or bodyweight exercises (squats, mountain climbers, jumping jacks) for a full-body workout that seriously builds your stamina, says Brooke Budke, a certified boxing instructor. This ability to sustain physical effort over a longer period of time makes you better at just about any other sport or activity: running, power yoga, team sports, you name it.
Who Should Try a Boxing Workout Class?
Though boxing is a high-intensity workout, you don't need to be super fit to take a class, and you don't need prior boxing experience, either. You can customize the workout to your current fitness and ability levels.
"The best part about boxing workouts is that you can go at your own pace; you can be a beginner, and you can have any body type," Budke says. Even people with movement limitations can take part in boxing classes. "I've seen people with a broken foot sit on a stool and still do the workout," Budke says. Just speak with the instructor before class if you have any concerns or limitations.
Boxing is also a great way to sharpen your self-defense skills. Though most fitness boxing classes aren't classified as "self-defense" classes — and won't replace a traditional one — they will teach you basic boxing moves that you can build upon later.
Punching a heavy bag feels pretty empowering, too: "Seventy-five percent of our customers are female, and our members love the fact that, if push comes to shove, they know how to throw a punch or a right-cross," Budke says.
Plus, all those jabs and uppercuts — combined with bodyweight strength moves — can help you torch a serious number of calories (about 500 calories an hour for men and 400 for women), as well as improve your reaction time for greater performance in other sports.
Boxing Class Format, Duration and Size
The format of a fitness boxing class will vary depending on the club and specific class, but most, like those at TITLE (locations nationwide), EverybodyFights (in New Hampshire, Massachusetts, Illinois, Georgia and upstate New York) and Rumble (locations nationwide) rotate between combinations on the bag and exercises on the floor like burpees, lunges and mountain climbers.
"Most people think boxing just works their arms or upper body, and they're amazed to find that it's a full-body workout," Budke says.
As for the duration of boxing classes? At TITLE, you can choose between 30-, 45-, 60- and 75-minute classes; EverybodyFights has four different types of classes: train (cross-training with boxing), bags (interval-based heavy boxing bag class), road (treadmill-based workout mixed with floor work) and mitts (drill-based technique class to learn proper boxing form). Rumble's classes are 45 minutes long.
Class size varies from one club to another, but at TITLE, you can expect anywhere between 20 and 65 participants in a single class, Budke says, although it depends on the location.
What to Bring and Wear to a Boxing Class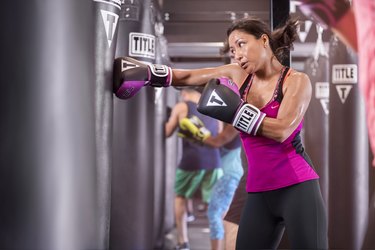 Most boxing studios and clubs have gloves and wraps available, "so you don't need anything to get started," Budke says. But others may require you to buy or rent the gloves and wraps, so check with the location before you go.
Otherwise, come to class wearing cross-training shoes and comfortable clothes that you can get sweaty in. And be sure to bring water and a towel if you sweat a lot (pro tip: you probably will).
Tips for Your First Boxing Class
Plan on arriving early to your first session (TITLE asks that you get there at least 20 minutes early) so you can fill out any paperwork, get your hands wrapped and ask the instructor any questions you might have.
Above all, have fun and don't stress about nailing the moves right away. "The instructor will tell you what to do — it's kind of like a paint-by-numbers," Budke says. "If they say 'jab,' you jab, and if they say 'cross,' you cross."
Like most fitness classes, boxing groups are pretty welcoming, and no one else in the class is going to be watching and judging you. "It's just you and the heavy bag, and a bunch of other people with their heavy bags," Budke says. "No one really looks at anyone else because they're so focused on trying to do what the trainer is asking them to do."
Find a Boxing Class Near You
There are many local boxing-specific clubs all over the U.S.; it just requires a little searching in your area. Plenty of major gym chains also offer boxing classes, including some YMCA locations (the YMCA in Cambridge, Massachusetts has a full boxing gym). Here are a few nationwide franchises to check out if you're ready to give boxing a try.
TITLE Boxing Club
Your first class is free, and after that they offer an unlimited monthly membership, a membership option that allows up to eight classes per month and an option that allows up to four classes per month. Membership pricing and details vary by location, so check your preferred studio for specifics. TITLE also offers an online option so you can work out wherever you are. You can get a one-week free trial, and after that you can get unlimited classes for $24.99 a month or $239.99 a year.
UFC Gym
Get one free guest pass to your gym of choice. Check your preferred location for class and pricing details.


Rumble
Class pricing varies by location, but a single class at one of their New York studios costs $36.


EverybodyFights
First-timers get a free class. After that, cost varies by location, so check your preferred studio for pricing.