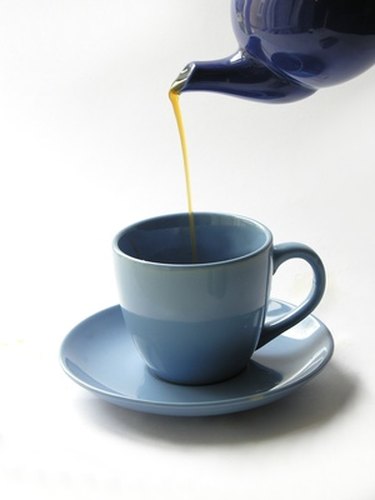 Chinese diet tea is a concept that covers a multitude of teas on the market that promote a dieting aid for individuals looking to supplement their weight-loss efforts. Although these teas have been promoted for their weight-loss success, many risks can be associated with these teas when used over long periods of time or steeped for too long.
Be cautious if using a Chinese dieting tea that uses laxative agents (like China Slim Tea), and research the ingredients to verify their safety. Follow the instructions as indicated on the packaging, and do not use the teas any longer than one or two weeks maximum.
Step 1
Bring water to a boil in the morning before breakfast. Once boiling, steep one Chinese diet tea bag for two minutes in six ounces of water, and no longer, suggests the manufacturers of "Super Dieters Chinese Tea." Squeeze the tea bag, then remove the bag from your cup of water and sip before breakfast. The caffeine and laxative properties in the tea, such as senna, will move liquid and waste through the body quickly to support weight loss.
Step 2
Before lunch, steep one tea bag in 12 ounces of boiling water for two minutes, as recommended by the manufacturers of "Super Dieter's Chinese Tea." Remove the bag from the water. Drink six ounces of the tea with lunch and save the rest of the tea for right before bedtime for convenience. Natural properties in tea called polyphenols can aid in weight loss, suggests The-Color-of-Tea.com.
Step 3
Warm up the remaining six ounces of tea left over from the lunch preparation. Drink this tea before you go to bed. In the morning your body will be ready to release the waste and fluids of the previous day. Some cramping and nausea may exist for certain individuals. Water weight will be lost quickly with drinking the Chinese diet tea daily over a one-week duration, suggests Learn-About-Tea.com. You can also use a Chinese diet tea for shorter periods of time, from one to two days, two to three times over the period of one month. Always consult your health care professional before undertaking supplemental supports for weight loss.
Warning
Consult your health care professional before using a Chinese dieting tea, as there are risks associated with the teas on the market today. Use moderation and self-control, and do not overuse the teas, as they can damage the liver or create a laxative dependence.