Different types of cancer can occur in the region of the chest, or thoracic cavity, according to the Indiana University Melvin and Bren Simon Cancer Center. Cancer can occur in the chest wall, causing pain due to tumors. Lung cancer is also a very common form of chest cancer. If cancer occurs in the esophagus, it can lead to symptoms in the chest. Furthermore, cancer of the thymus, which is situated behind the breastbone, is also considered to be a chest cancer.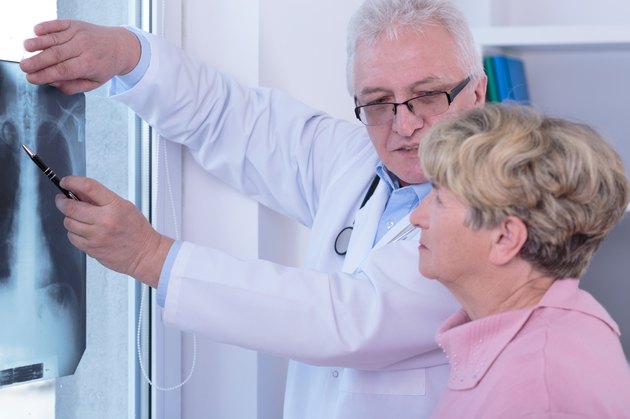 Chest Pain
Pain in the chest may be the result of cancer of the esophagus, lung cancer or cancer of the chest wall. Chest pain may occur at the very center of the chest in esophageal cancer and may include sensations of heartburn, the National Cancer Institute says. According to the NCI, cancer of the thymus also produces chest pain.
Respiratory Problems
A cough that seems to persist for a long time may be a symptom of lung cancer. According to the NCI, a cough might also indicate cancer of the thymus. Difficulties breathing can be warning signs of these cancers. Furthermore, an abnormal growth in the chest cavity could affect breathing if it interferes with the lungs, the University of Rochester Medical Center says.
Tumors
Cancerous growths can occur on the chest wall in muscle or bone in the form of tumors. Chest wall tumors can be the result of breast or other cancer that has spread to nearby tissues. According to the University of Rochester Medical Center, it is more unusual to find a cancerous chest wall tumor than a non-cancerous one.
Fatigue
Fatigue, while a symptom of other conditions, may also indicate a chest cancer if the other symptoms are present, the NCI says. Lung cancer may cause fatigue in later stages of the disease, the institute says. It is important to check with your doctor if any of the above symptoms appear.