Whether your fingers are short and pudgy or long and lean is a matter of genetics, and you can't change your genes. But, if you're finding your fingers a bit fatter than usual and they feel tight and puffy so that it's hard to remove your rings, you can take some action to slim them down.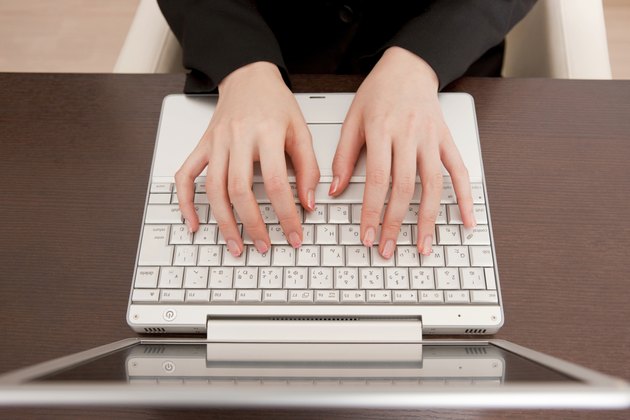 Losing excess weight helps reduce excess fat on your hands -- along with fat on other parts of your body. Fat fingers may also be a result of fluid retention that can be decreased with dietary changes. If you suffer from arthritis or another inflammatory condition, or your thick fingers are accompanied by stiffness or pain, consult with your doctor to see if you have an underlying health problem and need medical attention.
Reduce Fluid Retention in Your Fingers
Your fingers may feel fat and swollen the day after a particularly salty meal or, for women, during your menstrual cycle or pregnancy. As you age, you may also be more susceptible to holding onto excess fluid in your hands, as well as in your feet and ankles.
To help discourage water retention, amend your diet. Reduce your sodium intake to 1,500 milligrams daily -- the amount recommended by the American Heart Association for hypersensitive individuals. Approximately 77 percent of the sodium you consume comes from processed and restaurant foods, according to the AHA. Foods particularly high in sodium include packaged sandwich bread, salad dressings, deli meats, frozen dinners and canned soups. Eat out less often and prepare whole foods at home, such as roasted chicken with wild rice and steamed vegetables. Even if you add a pinch of salt from your shaker, you'll likely get far less sodium than you do from a prepackaged meal.
Although you can't control your hormones or age, you can stay adequately hydrated, which also helps discourage water retention. When you're dehydrated, your body tends to hold onto excess fluid -- even in your fingers. Aim for 9 to 12 cups of fluid daily so your urine looks the color of light lemonade. Remember that watery vegetables and fruits, as well as water and other drinks, contribute to your fluid intake.
Eat Certain Foods to Encourage More Slender Fingers
Replace the sodium-laden and high-calorie foods in your diet with more watery vegetables and fruits rich in antioxidants and potassium. The antioxidants reduce total body inflammation, which may contribute to swelling of the fingers, and potassium helps decrease your body's sodium concentration and encourages urination. Foods such as blueberries, cherries, tomatoes and squash contain numerous valuable antioxidants. Potassium is prevalent in leafy greens -- including spinach and kale -- bananas, avocados, acorn squash and white potatoes. Fresh produce isn't your only source of this mineral, either. Yogurt, salmon and white beans also contain high levels.
Foods rich in magnesium and vitamin B-6 are helpful in reducing water retention in women during the menstrual cycle and might help reduce swelling in the fingers. Eat more leafy greens, whole grains, nuts and potatoes to get these nutrients.
Achieve a Healthy Weight to Slim Your Fingers
Losing excess weight helps reduce extra fat in your hands and fingers. To do so, you must create a calorie deficit -- meaning you burn more calories than you consume daily. Use an online calculator to determine how many calories you burn daily for your size, age, gender and activity level. Then, subtract between 250 and 1,000 calories from that number to determine how many calories you should eat daily to lose 1/2 to 2 pounds per week. You don't want to eat fewer than 1,200 calories as a woman or 1,800 as a man, or you risk stalling your metabolism. If you can't subtract enough calories without reaching these low limits, boost the amount of physical activity you do to burn more calories.
It's impossible to target your hands for fat loss, but know that as you lose fat all over your body, your hands may slim down as well.
Change the Appearance of Your Nails
How you groom your nails can also make your fingers appear slimmer. On women, long nails elongate the appearance of the fingers, making them seem slimmer.
Use a manicure technique to make your nails appear thinner, too. Instead of applying polish all the way to the sides of your nails, concentrate the swipe of polish on the center of the nail and leave a slight gap at the edges to create the illusion of slimmer, longer nails.