A massage with aromatic oils can leave you feeling refreshed and relaxed. There are many benefits to receiving a massage, regardless of what type you try. Your massage therapist may have her own blend of oils, but many therapists choose to include almond oil and vitamin E oil. Each of these oils has its own properties, and both may help to soothe, soften and heal your skin.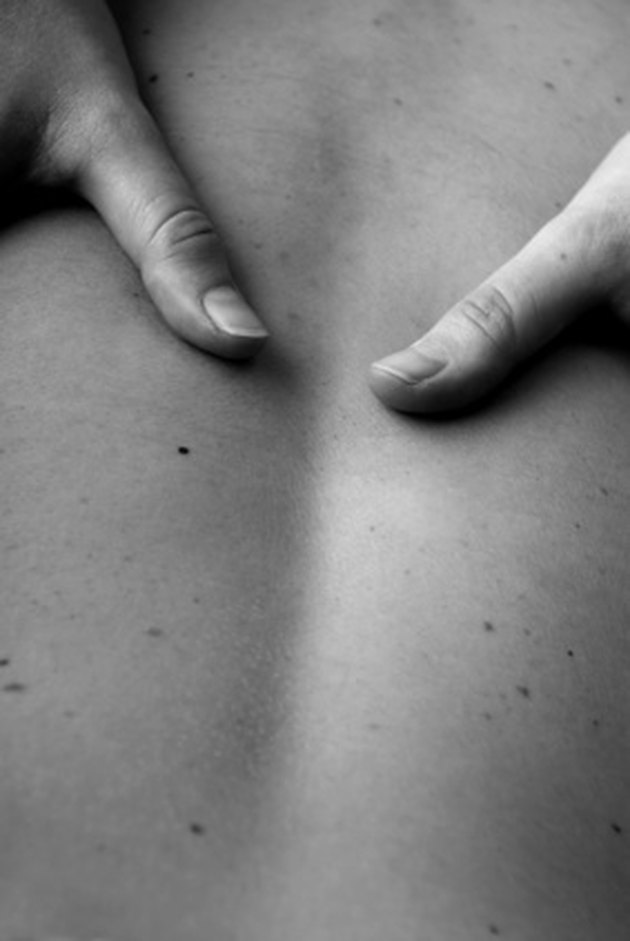 Massage
According to UMM.edu, massage is a therapy that manipulates muscles and soft tissues in the body to improve your health and promote well-being. There are many different types of massage, including Swedish, deep tissue, hot stone and Tui Na, which is a branch of Chinese medicine. The origins of massage are unknown, but it has likely been utilized for thousands of years. Today, it is often viewed as an indulgence, being offered at spas and retreats all across the world. Although it may seem like a luxury, it can actually be useful in the relief of pain and muscle tension, musculoskeletal problems, insomnia and swelling of tissues.
Massage Oil
The type of oil a therapist uses depends on many factors. He may prefer certain oils for specific conditions or he may utilize an aromatherapy oil to help clear your sinuses or relieve a headache. Even if there is not specific reason for using a particular oil, the oil itself is helpful in aiding the motion of the hands over your skin and muscles. Oil helps to prevent abrasion or burning sensations of the skin, and it can even hold heat, warming your muscles.
Almond Oil
Almond oil, particularly the sweet variety, has a pleasant scent that is not overpowering. It is easily absorbed into the skin, and may provide health benefits in addition to its skin softening abilities. According to an article published in "Complementary Therapies in Clinical Practice" in February 2010, almond oil has been used in complementary medicine circles for its anti-inflammatory and immune boosting potential. Although no clinical evidence exists to back these claims, it has been found to be effective in reducing scarring after an operation. It can also smooth the skin, improving skin tone and the complexion. Adding almond oil to your massage oil mix, or using it on its own, can potentially increase your skin's health.
Vitamin E Oil
Vitamin E is a well-known skin-care ingredient, gracing all manner of products, from shampoos to lipstick. A May 2010 study in the "Journal of Drugs in Dermatology" found that vitamin E oil is an effective topical therapy in the management of hypertrophic scars and keloids. It may also be helpful if you have atopic dermatitis. Another study, this published in the "Journal of Dermatological Treatments" in July 2010, investigated the effects of topical treatment of vitamins E and D on atopic dermatitis. The study concluded that both vitamins have beneficial effects on cases of atopic dermatitis.
Considerations
Combining these oils into one massage oil is simple, and should not cause any interactions. However, it is important to note that, as with any skin-care product, you may have an allergic reaction to one or both oils. If you have an allergy to almonds, do not use almond oil. Likewise, if you have any sensitivity to vitamin E oil, refrain from using it. If you use these oils and experience a reaction, discontinue their use and seek medical advice.