You may have seen labels or signs that state food is 'halal.' This means that the food is prepared according to Muslim dietary restrictions. Many practicing Muslims follow these guidelines to purchase foods and food products. The University of Toronto notes that Islamic scriptures stresses both the lawfulness and purity of food because it affects the soul, heart and mind.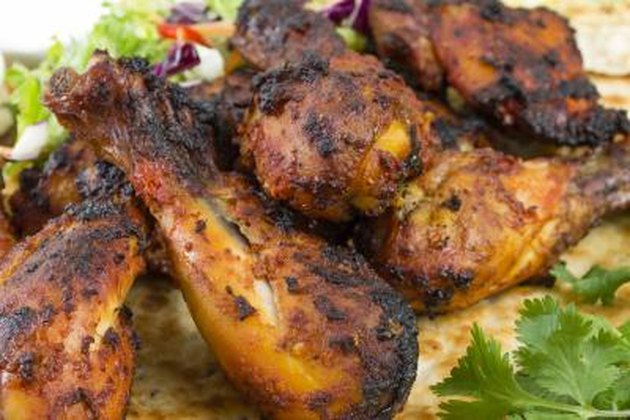 Lawful and Pure Foods
The Muslim Food Board notes that the Arabic word 'halal' means allowed, permitted or lawful. For food, halal generally refers to how animals are slaughtered and prepared to make meat and meat products. According to Islamic law, animals must be killed humanely and their blood must be drained completely, to make them halal. According to Islamic scripture, foods must also be 'tayyib' or pure. This means that animals to be slaughtered must be fed clean and natural foods. Food purity is also thought to include foods that do not have harmful additives such as pesticides and artificial dyes, however food purity is less stringently enforced than halal standards.
Animal Ingredients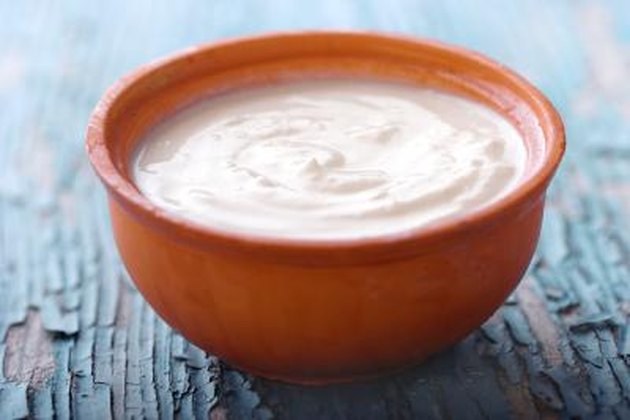 Since all halal meat must be prepared by the methods outlined under Islamic law, food products must also contain only halal ingredients. Some non-meat food products are not considered halal because they contain ingredients from animals that were not slaughtered by the halal procedure. This includes yogurt, sweets and other foods that contain gelatin, rennet or other gelling ingredients from animal sources. Dairy products are considered halal, unless they contain added animal enzymes or other ingredients. Additionally, carnivorous animals and animals that have died from natural causes or accidents are not permitted to be eaten, according to Islamic scripture.
Pig Products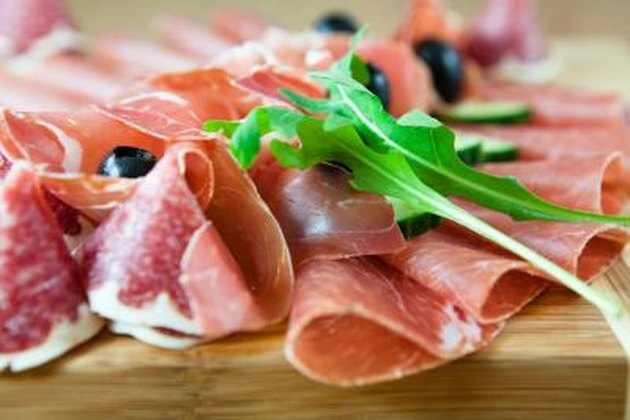 As in the Jewish tradition, pig meat and pig products are not allowed under Muslim dietary restrictions. Information from the University of Toronto notes that this includes everything from a pig, including pork, bacon, ham and lard. Even trace of amounts of additives such as gelatin from the bones of a pig make a food impure and therefore impermissible for a Muslim to eat.
Alcohol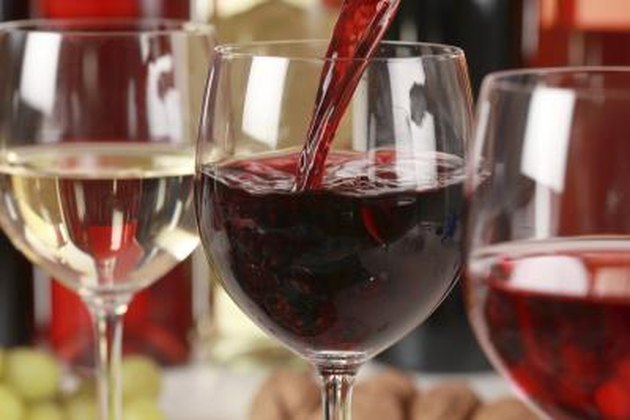 All types of alcohol and other intoxicating substances are not permitted according to Muslim dietary law. This includes all alcoholic beverages such as wine, beer, rum and vodka. Even a few drops of alcohol, such as wine or rum added to flavor sauces or desserts, makes these foods impermissible. Muslims also avoid foods that may contain alcohol such as some types of gourmet chocolates and vanilla extract, which can contain more than 50 percent alcohol.