An estimated 37 million to 38 million people in the U.S. wear contact lenses, according to the industry publication "Contact Lens Spectrum." A blurry contact lens can lead to frustration and difficulty completing everyday tasks and it might potentially present a safety or health risk. Depending on the cause, you can clear blurry contacts in several different ways.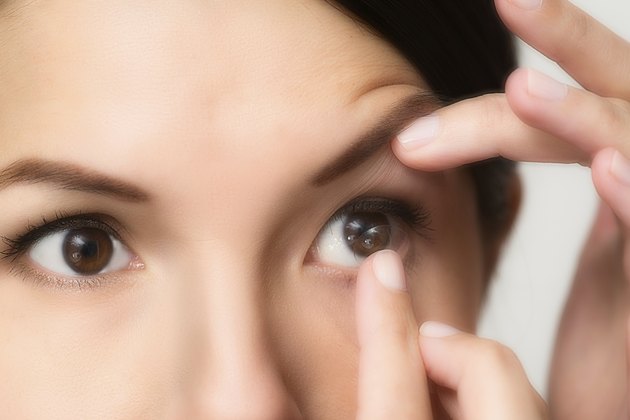 Cleaning a Contact Lens
When a contact lens is dirty from general wear or exposure to the environment, it can become blurry. After you wash your hands with soap and water, remove, clean and rinse the lens with an appropriate contact lens solution. Tap water or saliva should never be used to clean or clear contact lenses. Follow the instructions on the bottle for correct cleaning and disinfection and make sure the solution is the right kind for the type of contacts worn. Contacts should only be stored in a clean contact lens case with fresh solution.
"No Rub" Contact Lens Solutions
Proper cleaning and disinfection to clear blurry contacts requires rubbing and rinsing, even with solutions that used to be called "no rub." The only true no rub solutions are those that are hydrogen peroxide based, and these require a special case and a 6-hour soak. If a lens has been over-worn, it does not let as much oxygen through to your eye. An old lens may also be covered with protein deposits. If a lens has been worn past its approved amount of wearing time, it won't be clear and comfortable after cleaning and needs to be thrown away.
Contact Lens Dryness
Eye dryness can cause tears to evaporate too quickly, which can lead to contacts becoming blurry. Computer users often suffer from dry eyes because they do not blink as often while doing computer work. Making sure to blink and using rewetting drops made for contacts can sometimes clear blurriness associated with dry eyes or computer use. If you're unsure whether an eye drop can be used with contact lenses, always ask your doctor.
When to See a Doctor
Contact lenses that do not fit properly or are the wrong prescription can be blurry and cause damage to the eyes. In this case, your doctor needs to correct or refit the contact lens to achieve clear vision. Eye infections may produce discharge that causes contacts to seem blurry. For any type of blurry vision that includes pain or discharge or does not resolve in a day or two, a visit with an eye doctor should be scheduled.
Is This an Emergency?
If you are experiencing serious medical symptoms, seek emergency treatment immediately.