High in protein and low in carbs, scrambled eggs can provide a solid, nutritious start to your day. They can also be the major part of a meal that is relatively low in calories. The calorie count depends on how the eggs are prepared, which can make a difference in the nutritional value.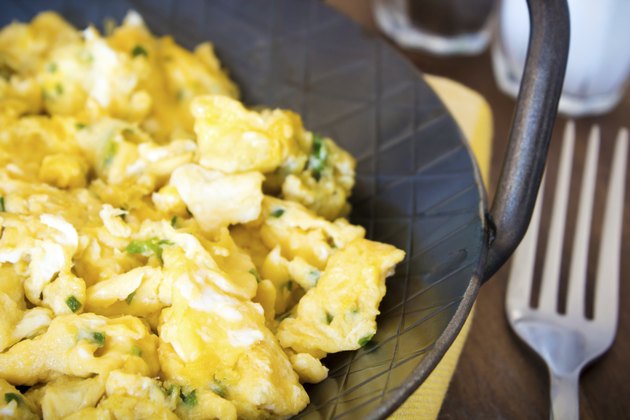 Home-Cooked Eggs
Two large scrambled eggs have 182 calories, according to popular calorie counter app MyPlate. Of that total,120 calories, or about two-thirds, are from fat. Only 37 calories, or about 20 percent, are from saturated fat; the rest are from monounsaturated and polyunsaturated fats. Roughly one-third of the calories in scrambled eggs come from protein, with less than 1 percent of the calories coming from carbs.
Fast-Food Eggs
Fast-food scrambled eggs contain more calories, at 204 per two-egg serving. About one-third of those calories are from protein, and about two-thirds are from fat. Of the total calories, 26 percent comes from saturated fat, which represents a higher fat content than in fresh eggs. Carb amounts are negligible at less than 1 percent.