Your physician may recommend iron supplements to treat or prevent iron-deficiency anemia. Iron is crucial for the proper production of red blood cells. Pregnancy, poor diet, excessive bleeding or other medical problems may put you at risk of developing iron-deficiency anemia. Iron pills come in various forms and brands. Your health care provider should tell you how many iron pills to take per day and when you should take them.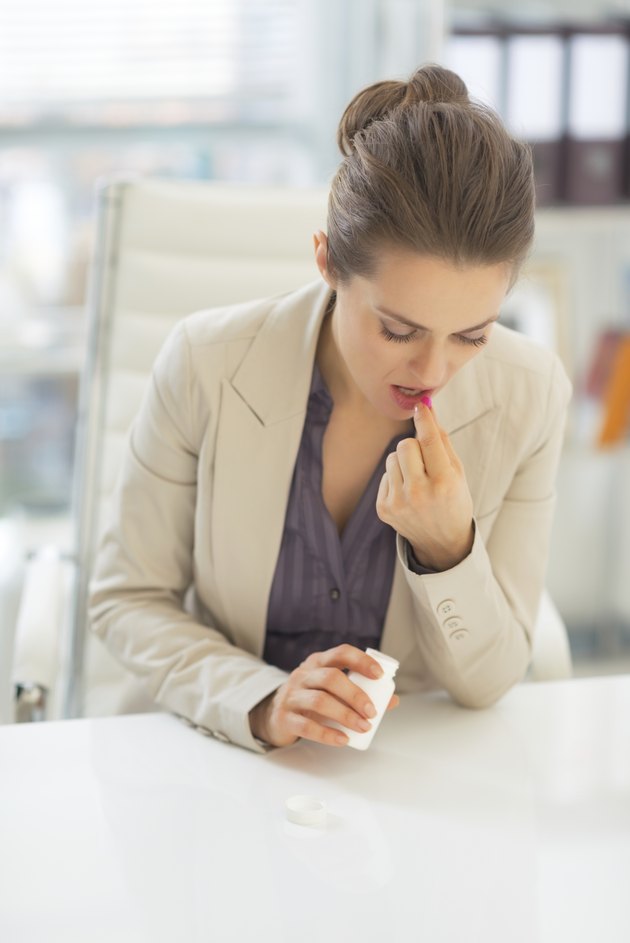 Taking Your Iron Pill
Iron pills come in various forms, from extended-release tablets to regular and extended-release capsules. If you are unable to take pills, discuss oral liquid iron with your doctor as another option. Typically, iron pills are taken three times per day between meals. Iron is better absorbed when doses are spread across the day. Try to take your iron pill on an empty stomach, usually one hour before or two hours after eating.
Improved Absorption of Iron
Although iron pills are usually recommended to take on an empty stomach, iron is better absorbed by the body when paired with vitamin C. Consider taking your iron pill with juice that is rich in vitamin C, such as orange juice, grapefruit juice or vegetable juice cocktail. Take into consideration that iron supplements are available in two forms, ferrous and ferric. Ferrous iron salts are the best absorbed form and include ferrous sulfate, ferrous fumarate and ferrous gluconate.
Considerations With Iron Pills
Some individuals may experience constipation, diarrhea, nausea, vomiting, abdominal distress or dark-colored stools when taking iron pills. Taking your iron pill over several doses throughout the day rather than one large dose may decrease these side effects. Some foods in the diet decrease or inhibit the absorption of iron, including dairy products, antacids, tea, coffee, high-fiber foods, whole grains and legumes. If you have consumed any of these foods, wait at least two hours before taking your iron supplement.
Important Warning
Remember to store your iron pills in a location that children and animals do not have access to. Keep the pill bottle tightly capped and away from reach. Accidental overdose of iron pills is one of the leading causes of fatal poisoning in children under the age of 6. If accidental overdose does occur, call your physician or poison control immediately or visit your local emergency room.