Thai food is delicious, but not all of it fits within a healthy diet. Much of the cuisine contains coconut milk, which has 50 grams of saturated fat per cup, according to the U.S. Department of Agriculture's National Nutrient Database. Other dishes are deep fried or smothered in oily sauces. However, many Thai dishes are steamed or stir fried, making them healthier options when dining at a Thai restaurant.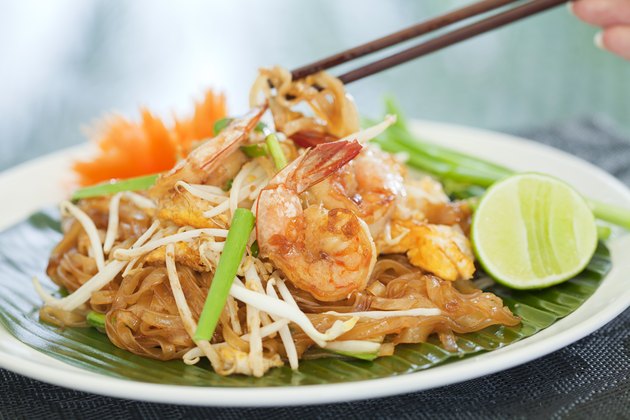 Broth-Based Soups
By choosing a soup made with broth over one that is made with coconut milk, a diner can drastically reduce the amount of fat and calories you consume at a Thai restaurant. Hot and sour shrimp soup is a better choice than coconut shrimp soup, according to "Cooking Light Magazine." Broth-based soups can also serve as a healthy appetizer and those that also contain vegetables fill you up, so you eat less when your meal arrives.
Cashew Chicken
Ordering cashew chicken at a Thai restaurant is a healthy choice because it contains plenty of protein and the nuts provide heart healthy fats, which has been linked to healthier cholesterol readings. However, eating only one serving is recommended due to calorie content, advises "Cooking Light Magazine." This dish lacks the coconut milk that makes up many of its traditional Thai counterparts, which reduces saturated fat intake. Ordering cashew chicken with brown rice instead of steamed rice provides a serving of whole grains and fiber.
Fresh Spring Rolls
Fresh spring rolls are a healthy Thai food filled with vegetables. They are a much healthier alternative to fried spring rolls, according to the American Heart Association. The filling for fresh spring rolls is steamed, which reduces fat and calorie intake without sacrificing flavor. Dipping them in sweet and sour sauce adds minimal calories, but stick to 2 tablespoons or less. Two tablespoons of sweet and sour sauce contain 130 milligrams of sodium, 7 percent of your daily recommended intake.
Stir Fry
The stir fries served in Thai restaurants are made without coconut milk and incorporate lean meats and vegetables, making them a healthy choice. Pad Thai is a good choice, reports the American Heart Association, because it is made with stir-fried noodles, peanuts, tofu and vegetables. When ordering a stir-fry featuring noodles, skip the rice to keep calorie count down. Requesting more vegetables and a moderate amount of meat makes this an even healthier meal.
Fresh Fruit
Ordering fresh fruit over deep fried desserts or coconut ice cream is a healthy ending to a Thai meal, reports the American Heart Association. Fruit is high in nutrients, but low in calories and fruits are fat-free. Many Thai restaurants incorporate fruit into a fruit ice, a dessert that is similar to sherbet. A simple fruit salad is also a healthy choice. If this type of thing isn't offered, a diner can prepare it at home.