Coumadin, also known as warfarin, is an anticoagulant used to decrease the formation of blood clots by blocking certain clotting factors. Doctors prescribe Coumadin to patients with histories of heart attack and stroke, as well as patients with prosthetic heart valves. Certain foods and beverages can lessen the drug's effectiveness in preventing blood clots. As well, consuming other types foods could result in a greater risk for bleeding. Knowing the foods to avoid will help you prevent these types of side effects.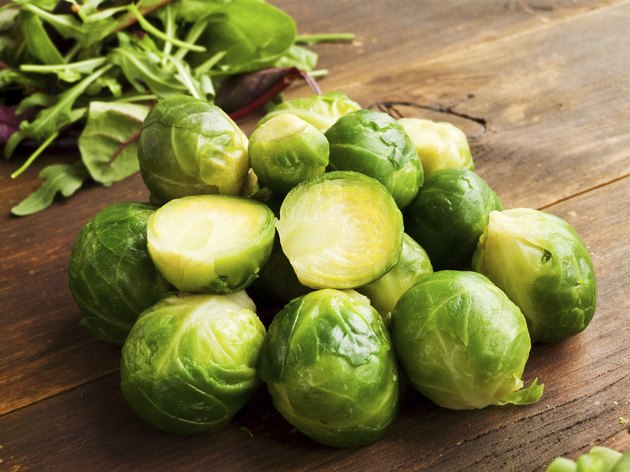 Vitamin-K Rich Foods
Patients taking Coumadin should avoid eating large amounts of foods containing Vitamin K, a fat soluble vitamin that helps the blood coagulate. Patients taking Coumadin should first consult with the doctor before adding any vitamin-K rich foods to their diet. These foods include many leafy vegetables such as spinach, kale, cabbage, asparagus, broccoli, Brussels sprouts, green onions, endive, lettuce, turnip, collard greens and mustard greens. Large amounts of vitamin-K are also found in soybean oil and canola oil.
Cranberry Products
PubMed Health states that patients taking Coumadin should avoid eating cranberries, drinking cranberry juice or taking cranberry herbal products. Cranberry products destabilize Coumadin and increase its effect on the body leading to severe bleeding problems.
Alcohol
Drinking large amounts of Alcohol while taking Coumadin can increase the effect of Coumadin and lead to severe bleeding problems, according to PubMed Health. Patients who consume large amounts of alcohol should inform the doctor.
Herbs
Patients taking Coumadin should avoid taking herbal products without first consulting their doctors. Some herbal products interact with Coumadin and increase its blood thinning effects leading to bleeding disorders. Herbal products to be avoided include coenzyme Q10, green tea,herbal teas containing tonka beans, sweet clover or sweet woodruff, bromelains, coenzyme Q10, dong quai, garlic, Ginkgo biloba, ginseng, and St. John's wort.
Fats and Oils
Some oils can impact the way Coumadin works in your body. These include soybean oil, olive oil and canola oil. Not only should you avoid using these oils when you cook, you should read labels on the products you purchase to make sure they do not contain these oils. For example, mayonnaise may contain canola or olive oil.