While serious reactions to the flu shot are rare, it is important to know what to look for after you get a flu shot. The standard flu shot is injected into a muscle. Another variety of flu shot is injected into the skin. The signs and symptoms of reactions are slightly different, depending on which type of flu shot you receive.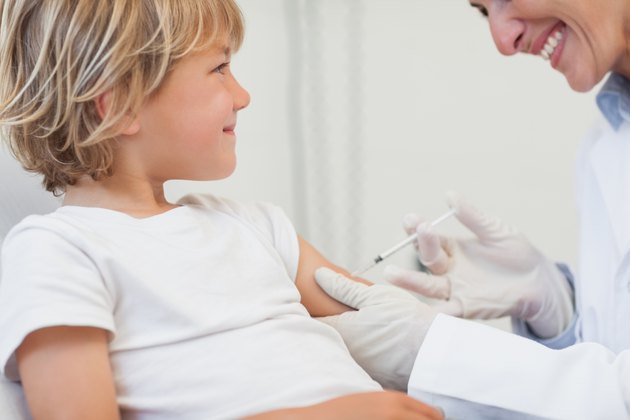 Types of Flu Shots
The flu shot contains inactivated flu virus and cannot cause the flu. Standard flu shots are given by injection, usually into the upper arm muscle. An alternative flu shot, called the intradermal flu vaccine, is given with a much smaller needle than the regular flu shot. This shot is injected into the skin rather than muscle. Like a standard flu shot, the intradermal vaccine also contains inactive virus and provides the same protection from the flu. The intradermal shot can only be used for adults ages 18 to 64. The small needle may appeal to those who don't like needles.
Range of Reactions
Most people who receive a flu shot do not have a reaction to it, reports Centers for Disease Control and Prevention. Among people who do experience a reaction, most are mild. Some serious reactions have been reported. Signs and symptoms of flu shot reactions differ slightly, depending on whether you had a standard or intradermal flu shot.
Mild Reactions
Mild reactions to a flu shot include redness, itching, pain or swelling at the injection site. Some people experience a low grade fever, head and body aches. These reactions typically go away on their own within 24 to 48 hours.
Redness, itching and swelling at the injection site are more common with the intradermal shot than with the regular flu shot. You may also experience skin toughness at the site of an intradermal injection.
Allergic Reactions
Although rare, severe allergic reactions can occur with a flu shot. Before you get a flu shot, let your doctor or nurse know if you are allergic to eggs or if you have had an allergic reaction or other severe reaction to the flu vaccine in the past.
Signs of a severe reaction include wheezing or difficulty breathing, hoarseness, hives, paleness, dizziness, fast heart beat, fever and weakness. A severe allergic reaction usually happens in the minutes or hours immediately following vaccination. Be alert for these signs and seek immediate medical help if you experience any of them. If you aren't sure whether you're having an allergic reaction, contact your doctor right away.
Guillain–Barre Syndrome
Progressive weakness and fever and can be a signs of a rare condition called Guillain-Barre syndrome. CDC estimates that approximately 1 to 2 people out of every 1 million receiving a flu shot may develop this syndrome. Contact your doctor immediately if you experience these symptoms.